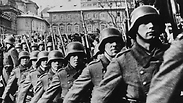 Illustration of Nazis marching during World War II.
Photo: gettyimages
Alois Brunner, the Nazi criminal who was considered the world's highest-ranking Nazi fugitive still living, apparently died four years ago in Damascus at age 97 according to new information received by the Simon Wiesenthal Center, a Jewish human rights NGO.

Brunner, who was born in Austria in 1912, served as one of Adolf Eichmann's highest ranking assistants and was responsible for deporting 128,500 Jews to Nazi death camps during the Holocaust.

The information about Brunner's death was given to the Simon Wiesenthal Center, named after the Nazi hunter, by a man who served several years in the German security services in Syria and the Middle East.

"It cannot be confirmed because of the situation in Syria, but in the case of Brunner he apparently died from old age, he, after all, was born in 1912," Dr. Efraim Zuroff, the director of the Simon Wiesenthal Center and author of the center's annual Nazi most-wanted list, told Ynet.

"He apparently died in 2009 or 2010, the exact date is unknown, but it is known that he was buried in Damascus and we have taken him off of our list of the ten most-wanted Nazis," said Zuroff.

Zuroff explained that Brunner was in charge of the deportation of 47,000 Austrian Jews, 44,000 Greek Jews, 23,500 French Jews and 14,000 Slovakian Jews to Nazi death camps during the Holocaust.

"Brunner was known for his cruelty and for his strong desire to kill all Jews," said Zuroff.

"In 1985 he gave an interview, apparently the only one he ever gave after the war, to a weekly German newspaper. When asked if he had any regrets, he responded that his only regret was that he did not kill more Jews," Zuroff said.

Brunner fled to Syria and had lived there since the '50s.

"Syria is a country where they value and respect Nazi criminals," said Zuroff. "He was there as a consultant to the first Assad regime, and was also involved on the subject of Jews. He was a consultant on terrorism and security, a clear anti-Semite, cruel and sadistic," said Zuroff.

Zuroff said he feels frustrated that they were not able to put Brunner up to a trial: "For us, this is the end of a very disappointing and frustrating case of one of the most important anti-Semites who assisted in the murder of tens of thousands of Jews."

"Although he was tried in absentia several times, he was never formally punished and the world did not ensure he would be prosecuted. Austria and Germany did not make the necessary effort to ensure his extradition, if there was even such a possibility," said Zuroff.

Regarding Israel's attempts to hurt Brunner, Zuroff said, "According to rumors, Israel sent him two explosive packages while he was living in Syria. The first time he lost an eye, and the second time he lost three fingers. Nobody knows who sent the explosive packages, but the rumor says that the Mossad was responsible, and that the man who sent the packages was former prime minister Yitzhak Shamir, during the time he worked for the Mossad."

In October, Zuroff sent the German government a list of 80 men and women who were members of a Nazi extermination unit and murdered Jews during the Holocaust. According to Zuroff, it is possible that some of them are still living.

Brunner had a wife and daughter who lived in Austria; however they always claimed that they did not know where he was located.