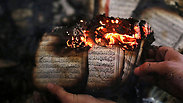 Jewish-Israeli settler arson attack.
Photo: AFP
Two Jewish settlers who admitted to setting fire to vehicles in the Palestinian village of Far'ata in the West Bank signed a plea bargain Sunday that will see them serving 30 months in prison.

The prosecution said that in light of the fact that the two men, Yehuda Landsberg and Yehuda Sabir, took responsibility for their actions, the two should receive "the minimum sentence" for their crime.

A third defendant, Binyamin Richter, claimed he was innocent and his trial will continue.

The three men, residents of the Havat Gilad outpost in the West Bank, stocked up with flammable material, spray paint, gloves and face masks and burned a truck and other vehicles in the Palestinian village on November 18, 2013.

In addition, they spray-painted a Star of David on a stone wall in the village.

Landsberg and Sabir were convicted of conspiracy to commit a crime motivated by racism, arson in a group, and corrupting land in a group motivated by racism.

Even though this is not the first incident involving the two men, the prosecution argued that in view of the fact they cooperated with law enforcement officials and took responsibility for their actions, their punishments should be lenient.

According to the prosecution, the two men "have expressed remorse for their actions, expressed understanding of the mistake they made to investigators and expressed their desire to deviate from this path that they chose and to act according to the law even in circumstances where they are not happy with the situation in the area inhabited by the Palestinian community."

Another prosecutor said that this was "a brave and rare" step by the accused, compared to other cases of hate crimes committed by Jewish settlers.

Furthermore, the prosecution asked for the court's support and cooperation in relaying to settlers that if they cooperate with the prosecution in the early phases of hate-crime investigations and admit to their crimes, their punishment will be more lenient.

The defense lawyers for the two men, lawyers Ori Keinan and Adi Keidar, said that the said arrangement was appropriate and balanced.