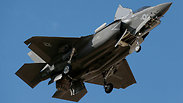 The F-35 fighter jet.
Photo: AP
The cabinet approved in principle on Sunday the purchase of 14 additional state-of-the-art F-35 fighter jets manufactured by American company Lockheed Martin.
The decision came amid objection from Minister of Intelligence Yuval Steinitz and Minister of Agriculture Yair Shamir, who said 36 jets were enough, and cited incessant problems in the production of the F-35 fighter jet.
The defense establishment, on the other hand, claimed that 36 jets would not be enough to allow the Air Force to continue increasing its abilities for long-range operations and dealing with the challenges the Middle East and the Iranian nuclear threat pose to Israel.
The defense establishment claimed that Lockheed Martin agreed to purchase defense equipment worth $6 billion from Israel in return, and give favorable credit conditions - all of this with the assumption that Israel would buy a total of 50 F-35 jets.
Even though the Americans did not back down from the agreement after the previous decision by the Ministerial Committee for Defense Purchases to purchase only 36 jets, the defense establishment claimed that the decision to purchase 50 jets will improve relations with the US.
The new plan calls for 33 of the jets to be purchased using American military aid money now, and 17 more to be purchased in the future.
The original plan was to purchase 50 jets for two squadrons, each including 24 F-35 fighter jets and two additional planes for experimental use by the Air Force.
Israel has already purchased 19 F-35 jets for $2.75 billion in 2010 with American aid money. The first planes from this deal are set to arrive in Israel in 2016.
Before the purchase of the additional 17 jets, which will cost $142 million per plane, the government will hold another discussion in order to make a final decision.
While declining to go into detail about the closed-door discussions, Steinitz cited misgivings about whether the F-35's range, payload and manoeuvrability would suit Israel's needs. The Israelis are also husbanding a defense budget which, though buoyed by some $3 billion in annual US grants, faces cuts.
Other concerns include the fact the jet's electronic systems are American-made, and Israel will not be able to equip it with Israeli-made systems. This would also have ramifications on exports of the Israeli Military Industry to foreign air forces.
The Americans can also supervise the use made of the plane, which led Britain to threaten to cancel its purchase.
Avital Lahav contributed to this report.