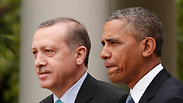 Erdogan, Obama: Might be working together?
Photo: Reuters
US military warned of possible Islamic State attacks at home
FBI, Homeland Security warn US soldier to erase from their social media accounts anything that would draw attention from 'violent extremists'; US, Turkey said nearing a deal that will allow US-led coalition to launch attacks against IS from Turkish territory.
WASHINGTON - US officials have warned military personnel that Islamic State forces may be planning attacks against them in the United States, ABC News reported on Monday.

A joint intelligence bulletin sent to law enforcement agencies by the FBI and the Department of Homeland Security urged members of the US military to erase from their online social media accounts anything that would draw attention from "violent extremists," or reveal service members' identity, the news network said.

ABC said the government indicated late Sunday it had obtained intelligence that Islamic State militants, who have taken over parts of Iraq and Syria with the intention of setting up a fundamentalist caliphate, were targeting the United States within its borders.




"The FBI recently received reporting indicating individuals overseas are spotting and assessing like-minded individuals who are willing and capable of conducting attacks against current and former US-based members of the United States military," the bulletin said, according to a Reuters source.

An FBI spokesman confirmed the accuracy of the ABC report, but declined to provide a copy of the memo.

US Army Colonel Steve Warren, a Pentagon spokesman, said the advisory "reinforces the guidance that our combatant commanders had put out several weeks ago."

The Pentagon had most recently advised personnel to check their social media after two Canadian soldiers were killed in their country in October in separate attacks that police said were carried out by converts to Islam, he said.

"The department has long been aware and mindful of the potential for homegrown extremism and we have continued to encourage and to advise all of our personnel to exercise the maximum amount of vigilance," Warren said.

A US government source told Reuters the warning most likely was issued in response to an upsurge in social media postings by suspected militants threatening US service members.

The source also said one concern was that many military personnel would be traveling in uniform over the holiday period, but the bulletin was not circulated until the Thanksgiving holiday weekend was nearly over.
US, Turkey said close to deal over IS mission
The United States and Turkey are closing in on a deal that will allow the US military and allied forces to use Turkish air bases in their campaign against Islamic State militants in Syria, the Wall Street Journal reported on Monday.
The newspaper, citing US and Turkish officials, said the agreement could include a safe zone along a portion of the Syrian border to protect refugees and certain opposition forces that would also "be off-limits" to aircraft from Syrian President Bashar Assad's government. Ankara has long sought a no-fly, or safe, zone.
Allowing the United States and its allies to use Turkey's bases would allow the coalition forces another foothold from which to launch continued strikes against the militants.
Turkey has agreed to allow 2,000 opposition fighters to be trained within its borders and has sent Turkish special forces to Iraq to train Kurdish peshmerga fighters, the report said.
The potential deal represents a narrowing of differences between the two sides as the United States and its coalition of allies continue to launch air strikes against Islamic State militants in Syria and Iraq.
Under the deal, the US-led coalition "could send a quiet warning to the Assad regime to stay away from the zone or risk retaliation," the WSJ said.
The report follows US Vice President Joe Biden's visit to Turkey last week that aimed to smooth differences in the fight against Islamic State militants. Biden had concluded two-days of meetings, including one with Turkish President Tayyip Erdogan, with no guarantee of Turkey's military cooperation.
The paper said Turkish officials are considering invoking Ankara's right to self defense under the United Nations charter by writing to the UN in order to justify the use of its bases. That could allow other North Atlantic Treaty Organization allies to join the fight against Islamic State militants, it said.
But The Pentagon earlier played down an idea of creating a buffer zone along the border, which would safeguard opposition forces and refugees.
"We are in discussions with the Turks. Right now, we don't believe a buffer zone is the best way to relieve the humanitarian crisis there in northern Syria," Colonel Steve Warren, a Pentagon spokesman, told reporters.
"But they are close allies, partners and friends, and we are in discussions with them about the way forward."
According to the WSJ report, the agreement would move away from the idea of a larger, formal "no fly" zone that had been sought by Turkish officials, covering a wider swath of northern Syria.
A protected zone along the Turkish-Syrian border would help safeguard opposition fighters being trained in Syria and shield opposition supply lines, the report said.
Asked what might be better than a buffer zone to relieve the humanitarian crisis, Warren said: "Continuing for us to apply pressure on (Islamic State militants) is probably the most effective way to relieve that crisis."
Ankara's plans for establishing safe zones, with air defense as a key component, have received a cool reception from many NATO allies.
Military experts say it would necessitate either agreement from the Syrian government or taking out Damascus' advanced air defense systems.
Such a move would risk dragging Western powers further into Syria's three-year-old war, and anger President Assad's allies, Russia and Iran.
Complicating matters, Assad is using the US air strikes as cover for his own air campaign against Syrian rebels, hitting the Islamic State stronghold of Raqqa in retaliation for the group's killing of Syrian soldiers.