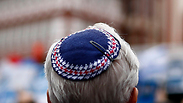 Russian media reports claim that a yeshiva student was badly beaten in the Moscow region. According to Russian news agency Interfax, Shlomo (Fyodor) Romanovsky, a Belarusian national studying at the Torat Haim yeshiva, was badly beaten in the Ramensky District of the Moscow region.

"The attack occurred twenty meters from the entrance to the yeshivah, where Romanovsky was returning from Moscow, in the early hours of December 2. The victim said three attackers, who spoke to each other in a language that was not Russian, did not demand anything and attached him right away," the press service for the Russian Jewish Congress told Interfax-Religion on Wednesday.

Related stories:

According to the report, the source said the injuries show that the attackers hit Romanovsky in his head, possibly with brass knuckles. The attackers then left the scene without taking anything from the victim, incidacting it was not a robbery, but possibly a hate crime.

"Shlomo crawled to the yeshivah, where an ambulance was called for him. But it took very long to arrive and the victim's condition was deteriorating, so a decision was made to take him to the Ramenskoye city hospital," the report said.

"The Russian Jewish Congress will provide all necessary assistance to the victim. In the hospital, he will be visited by Russian Jewish Congress President Yury Kanner," the press service told Interfax.

The Jewish Congress said the police have already talked to the victim, but he cannot speak because of his injuries and it is not fully clear what happened yet. The Congress said it is hoping that the law enforcement agencies will find the attackers and prosecute them.

According to the Russian Jewish Congress, this is the first attack on a Jew in Russia this year, however it follows a string of similar incidents in the EU.

Two weeks ago, a 31-year-old Haredi man was stabbed while he was walking to his synagogue in Antwerp, Belgium.

On Tuesday, a Jewish woman was raped in an apparent anti-Semitic attack in Créteil, a commune in the southeastern suburbs of Paris, French media reported Tuesday. According to the reports, three assailants broke into an apartment armed with a pistol and a sawed-off shotgun, demanding money and using anti-Semitic insults.