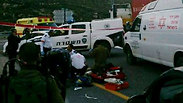 Scene of run-over incident
Photo: Israeli Police
On Monday, Avi Ben-Zion, a prominent local farmer from the Netiv HaGdud settlement in the West Bank, was heading towards home in his car. An initial investigation indicates that at about 2 pm, while he was passing the Alon Junction in the Shomron area, several Palestinians stopped him and pulled him out of the car, after which they pounded his head with an iron bar and escaped with his vehicle.

Several gangs of thieves have been using similar methods in recent years: they stage an accident, and when an Israeli stops – they steal his car.

Related stories:

Ben-Tzion was critically hurt, and passersby who saw him lying in the middle of the road called for help. He was taken by helicopter to a hospital and died of his wounds on Wednesday. Soldiers from the Duvdevan elite unit later arrested three Palestinian suspects in the towns of Qabalan and Aqraba, nearby the scene of the attack. The three have previous criminal records.

Initial reports believed that Ben-Tzion had sustained wounds after being run over by a vehicle.

The Shin Bet and the IDF's Judea and Samaria Division are now attempting to determine the suspects' motives. Police says that all possible angles are being investigated, but Ben-Tzion's wife and four daughters are certain that the incident was motivated by nationalistic reasons, and that he was murdered only because he was Jewish.

"My dear father was a victim of a terror attack," his daughter Ronnie said. "Terrorists dragged him out of the car, hit him in the head, escaped and left him unconscious on the road."

His daughter Revital is also convinced the attack was nationalistic: "It is clearly evident that it was a terror attack. They wouldn't have done that to an Arab. Those who want to steal a car do so and then escape."

Revital said that her father, who had been a pepper farmer in the Jordan Valley since 1976, had employed a number of Palestinian residents of the area over the years.

"The workers who came to work yesterday wept when they heard what they did to him. My father always treated (them) with respect and always gave and took care of them. They are part of us."

According to reporter Yaron Kelner, Ben-Zion's family decided on Wednesday to donate his organs.