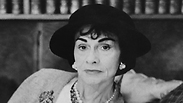 Film also explores Chanel's relationship with senior Gestapo officer
Photo: Gettyimages
Over the past couple of years, rumors have been circulating that celebrity famous fashion designer Coco Chanel was a spy for the Nazi Party during World War II.

Although no concrete evidence had been presented, stories about love affairs with high-ranking Nazis and top secret operations went rampant online.

Pact with Hitler?

New book says major American film studios not only passively accepted Nazi censorship, but actively cooperated with Hitler's propaganda machine to protect their interests in German market.

Now, a French documentary entitled "L'Ombre d'un Doute" ("The Shadow of a Doubt") claims to have discovered the necessary materials to reveal Chanel's secrets once and for all.

Broadcast on France 3, documentary historian Franck Ferrand explains that he found documents hidden in France's Ministry of Defense archives that prove Chanel worked directly with the Nazis.

The film also explores her relationship with senior Gestapo officer of Baron Hans Gunther von Dincklage and suggests Chanel spied for the occupiers.

"The Shadow of a Doubt" says that Chanel (who went by the codename "Westminster"), using her influence with the occupiers, attempted to re-claim her Chanel no. 5 perfume business from the Jewish Wertheimer family, however the efforts failed because the family had since sold to a non-Jewish business.

The documentary was aired as France 3 broadcasts "Un Village Francais," an acclaimed TV series that articulately explores the challenges and difficult choices the French people faced during the Nazi occupation.

Reprinted with permission from Shalom Life .