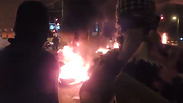 The suspect at the scene.
Mohamed Haj Yehiya, a 21-year-old from Tayibe, was arrested Thursday on suspicion of involvement in an attempt to lynch a Jewish man in November.

The municipal court in Lod also issued indictments against Yehiya for further alleged crimes, including rioting and malicious destruction of property.

Mohamed Haj Yehiya (right) during the lynch attempt

Police said the suspect had confessed to the charges.

An investigation by the Shin Bet and Central District Police uncovered a video clip showing Yehiya making nationalist statements and calling for an intifada.

The suspect demonstrated alongside other city residents on November 9; some participants threw stones, burned tires, and shoutied "Allah Akhbar".

The protest occurred following the fatal shooting of a Palestinian in Kafr Kanna. Crowds in Kafr Kanna and East Jerusalem rioted after the incident.

A resident of Netanya was driving by the protest in Tayibe, stopping when he saw that the road was blocked by burning tires. He attempted to drive away, but the suspect and other youths allegedly approached him and once they realized he was Jewish began to shout at him, throw stones, and tossed fireworks into the car.

Another resident of Tayibe rescued the man, saving his life.