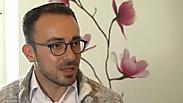 From Mumtaz to Mordechai
Photo: Orot
He was born as a Muslim in Kuwait, never heard a good word said about Jews, and then suddenly, in the middle of his life, Mumtaz Halawa's entire world turned over. He discovered that he was Jewish.

After quite a difficult crisis, he immigrated to Israel and changed his name to Mordechai. Until this very day, he has yet to tell his father – a member of the al-Masri family from Nablus who lives in Jordan – about the change he has gone through.

Jewish Roots

Dr. Navras Jaat Aafreedi, Tazpit

Urdu poet Mahfooz Ahmad Khan was absolutely ignorant of his Jewish maternal side, until one day he received letter from his London-based Jewish aunt.

"My house wasn't a religious home," Mordechai told Ynet and Orot TV. "We called ourselves Muslims, but we didn't really live like Muslims.

"As a child, I remember seeing my grandmother read from a printed book of prayers which wasn't in Arabic or in any other language I understood. She sat with the book and cried."

One day, Halawa found a document with a foreign surname: Mizrahi. The document was in Hebrew, English and Arabic and had been issued in "Palestine."

"I knew that my grandmother had converted from Judaism to Islam," he says, "but since I was born I was educated that if your father is Muslim – you are Muslim."

Mordechai says he received an anti-Israel and even anti-Semitic education. "In Kuwait, wherever you go, you hear comments against Jews – in the classrooms, in math or English classes, and even in Arabic classes."
'Let it be,' grandmother said
After Saddam Hussein invaded Kuwait, the family was forced to leave the country and move to Jordan. As a student, Mumtaz began his studies in Syria. Two years later, he bought a plane ticket to Canada and changed his name to Marc.

One evening, he met a man wearing a large black skullcap in the library. He began talking to him, expressing his desire to create a dialogue between Jews and Muslims.

"My grandmother is Jewish," he said innocently. "She is a very nice woman, not like the bad things people always say about Jews."

The man replied that according to Jewish Law, he was also Jewish, but Halawa found it difficult to believe him.

"I said, 'That's a very good joke. But it's impossible, because my father is a Muslim.' But he insisted, saying that 'according to Judaism, it goes by the mother's side. And because your grandmother is Jewish, your mother was born Jewish and you were also born Jewish.'

"I thought that man was just old, and I said: 'Come on, my grandmother married a man named Muhammad al-Masri from Nablus and converted to Islam. Believe me that anyone who is born Muslim leads a Muslim life.'

"I spoke with a lot of confidence, and he interrupted me: 'A Jew can convert to a different religion 10 times and he'll still be Jewish. So your grandmother passed the 'Jewish genes' on to your mother, your mother was born Jewish, and you were born Jewish.'"

Halawa was shocked. "It was too much. I had just been told that I was the enemy I had been educated against. It was a shock. That day, I felt like I had been living my whole life in a sort of dream and that I had just woken up. It was as if someone had slapped me and woke me up.

"I told my grandmother and she said, 'Don't ask any questions. We are Muslims, and that's all there is to it.'"

But Mordechai couldn't shake off the new recognition. "I spent the whole time checking anything Jewish. I had studied many things in Kuwait, but I had never learnt about World War II. I didn't even know who the good guys and bad guys were. I said to myself that if I want to know, I should go see things for myself."
'When you cut off a branch, it slowly dies'
After visiting the concentration camps in Poland, Marc decided to change his name to Mordechai and immigrate to Israel, where his grandmother and grandfather first met.

As he had no proof of his grandmother's Jewishness, Mordechai underwent a conversion process, "so I could get married and have Jewish children. That's all I wanted."

Mordechai has been fulfilling his dreams one after the other. He recently got married and lives in Jerusalem. The guy with the skullcap, who speaks fluent English, has come a long way since going by the name Mumtaz Halawa. A decade ago, he says, he had no idea that he would live in Israel one day.

"Occasionally, I stop my life and imagine myself living without Judaism, and I immediately feel sad," he says. "I haven't told my father to this very day. He may know about it and he may now. I think it's better not to trouble him. Both Judaism and Islam teach us to honor our parents.

"Abraham lived in the Iraq area, and I have no doubt that he went through Kuwait. He had to leave his father's house and do the opposite of what everyone thought should be done. I think I more or less did the same thing.

"My grandmother decided to leave. I keep hearing about girls marrying Muslims and leaving. People are unaware of the significance of the decision to cut a branch off the tree. When you cut off a branch, it slowly dies. The branch cannot be reconnected. I want to continue from where my grandmother left off."