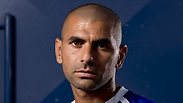 Salim Tuameh: Why is the players' union silent on this?
"I'm Salim Tuameh; everyone knows who I am and what I am, and I am certainly not a terrorist. Ninety percent of my friends are Jewish and I am proud of my origins. It's time to start combatting all the racist statements and the song against me, which has become part of the culture at the soccer grounds."
Tuameh, the captain of National League side Bnei Lod, decided to speak out after the Israel Football Association announced Monday that Maccabi Tel Aviv would be called up before a disciplinary committee because of racist chants and inappropriate behavior on the part of its fans during the team's game against Hapoel Haifa in Netanya last weekend.
Referee Liran Liani wrote up the behavior in his match report, noting that at some stage in the game, portions of the Maccabi fans began chanting "Tuameh is a terrorist," while other fans responded with contempt to the singing.
This incident comes in the wake of two others from the previous round of matches, in which fans of Bnei Yehuda and Beitar Jerusalem expressed the same sentiments, leading to sanctions against their respective teams.
"I watched Maccabi Tel Aviv's game against Kiryat Shmona on TV and throughout the game you can hear only one thing: 'Salim Tuameh is a terrorist.' You're sitting there with your friends, many of them Jews, and your family and you don't know what to do with yourself; it's really shameful," says Tuameh, who lives in Ramle. "My friend Uri Cohen, who currently plays for Hapoel Acre, told me that I was cursed throughout the game against Maccabi. What does it have to do with me at all?
"The situation in the country is very sensitive, especially lately, and this is why we have to fight even harder against racism," continues Tuameh, who moved last summer from Hapoel Tel Aviv to Bnei Lod. "They've been singing that song against me for years and years at the Maccabi games, and finally a referee like Liran Liani wrote about it in his report. It should have happened after every game. Why have they waited until now?"
Some seven years ago, Maccabi Tel Aviv faced a disciplinary hearing after one of its matches against city rival Hapoel because of similar chanting against Tuameh.
Then-Maccabi owner Loni Herzikovich argued before the tribunal that, "'Tuameh is a terrorist' is a heinous chant that has no place in Israeli society, but it's not a racist chant."
Tuameh rejects that claim. "If that's not racism, then what is? The song against me has become part of the Israeli soccer experience, a part of the fixed culture. I don't understand the observers, the referees and all the officials, who until now have failed to mention it in their reports."
Tuameh also expects the country's players to join together to denounce the phenomenon.
"Where's the players' union, which jumps on every bandwagon, like the recent derby events, and is now silent all of a sudden?" he asks. "Racism is taking over our soccer. It's time for the senior players to take action; this is incitement that can lead to very dark places… It's time to uproot this phenomenon."
'Forgive us'
Earlier this week, Tuameh received a letter from an unexpected source - a Maccabi Tel Aviv fan apologizing for the behavior of his team's supporters:
"I have always admired you as a player and a leading light in Israeli soccer. I am a Maccabi Tel Aviv fan and every time they sang that disgusting song I was ashamed and asked them to stop singing it.
"I ask for your forgiveness for myself and on behalf of most Maccabi fans in the stands. I am sure that most of them would want you in the team.
Stay strong,
Yair Amar
Maccabi TA fan