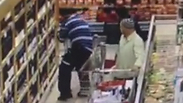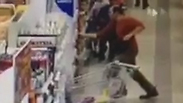 A terrorist entered a supermarket in a settlement on the outskirts of Jerusalem on Wednesday afternoon and stabbed two middle-age Israelis. An off-duty security guard, who witnessed the attack, fired at the terrorist and arrested him. The news came as Israel's government disbanded and was heading towards a March election.
Inside terror attack ( )
At around 4:15 pm on Wednesday, a Palestinian aged 16 and a half from the West Bank village of al-Azariya entered a supermarket at the Mishor Adumim Industrial Park near Ma'ale Adumim.
He was pushing a shopping cart, and given the fact that the branch is a rare oasis of coexistence between Jews and Arabs, his presence didn't arouse any suspicion.
Upon reaching the back of the store, the teenager pulled out a knife, stabbed and wounded two customers, overpowered one of them who had tried to subdue him, and raced towards the exit.
An off-duty security guard who works in the prime minister's office happened to be shopping nearby; he drew his gun and chased the attacker towards the cash registers while ordering him to stop. The off-duty officer shot the attacker in the leg, causing him to collapse near the register, where he was arrested and handcuffed.
Security forces arriving at the scene arrested two other Palestinians suspected of assisting the terrorist, while police also arrested a relative in al-Azariya.
The security guard, who received a congratulatory call from the prime minister, said, "I did my duty. I thank those who kept a cool head and helped neutralize the terrorist." He added that he did not consider himself a hero, saying, "I was lucky."
Two hours after the attack, normal business resumed in the store, with customers streaming in. But employees – Jews and Arabs alike – struggled to process the incident. "Both Jews and Arabs work in the store and we are like siblings," Mohammed Abdullah Skouri, also from the nearby village of al-Azariya told Ynet. "More than siblings. We don't know how this happened here of all places."
His friend, Mohammed Ibrahim said he hoped that the relationship between the workers and their Jewish customers would not change. "I've been working here for 10 years and Jews and Arabs are like family here. I see the same customers every day and know them better than my own family. I don't think this will damage our relationship. People are smart enough to understand that not all people are the same."
Jewish employees shared similar sentiments. "Workers here are very nice," said Leni Orkelinsky. "I've never seen anything unusual. We have very good relations. They were also very frightened." She said she expected some tension, but no lasting effect.
Rami Levy, the owner of the supermarket chain, arrived at the store soon after the attack. "Some people have an interest in ruining co-existence, but we will not let them win," he said. "The fiends who did this have an interest in shutting the place down. They claim that I'm the biggest settler in Israel because I supposedly opened branches in their territory."
Levy responded to growing demands that he fire Arab employees. "We hire workers regardless of religion, race, or nationality. We have laws in Israel. Just as I wouldn't want France or other European countries to say they won't hire Jews or allow Jews to enter, I wouldn't want that here."