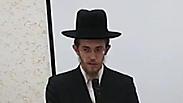 Ya'akov Friedman, father of Blima Friedman who died after she was run over in Brooklyn.
A 10-year-old girl died in New York on Tuesday after she was run over while crossing the street with her mother in Brooklyn just five years after her younger sister nearly lost her life in a fire that broke out in the family's home during the Hanukah of 2009.

The Brooklyn ultra-Orthodox Jewish community mourned the death of 10-year-old Blima Friedman this week after she was killed on Tuesday when a valet driver ran over her and her 9-month-pregnant mother Sarah Friedman.

Blima was taken to Maimonides Medical Center after the accident where she died of her wounds. Meanwhile, her mother Sarah was taken to Lutheran Medical Center in serious condition and gave birth to a baby girl after an emergency Cesarean section.

According to media reports in the US, Sarah does not yet know that her daughter Blima passed away in the accident.

This is not the first tragedy the young Jewish family has faced. Five years ago, their 3-year-old daughter was critically burned when a Hannuka candle fell in their home and started a fire. Their young daughter Tzviya managed to survive serious burn injuries and the story was called the "Hanukah Miracle" in the Daily News.

According to CBS, the accident occurred while Sarah and Blima Friedman were crossing 66th street on the 18th Avenue intersection.

Bilal Ghuman, a 22-year-old valet service worker for the Ateres Chaya Hall in the Haredi Burough Park neighborhood in Brooklyn, allegedly took a Honda Odyssey minivan without permission and drove to a nearby store, running over Sarah and Blima Friedman in the process, according to a report by CBS.

Although she was in serious condition, it was reported that Sarah gravely worried about her daughter's condition and repeatedly asked medical workers if Blima was okay.

Sarah had been sedated following her injuries and still does not know that Blima passed away.

"She is currently sedated, and does not even know that Blima is not alive," said Rabbi Jack Meyer. "We will have to deal with this later."

One of Blima's teachers told CBS, "Blimy was always happy, always trying to please and do the 'right thing.'"

Another one of Blima's teachers said, "She was simply a small girl, loved and special."

Sarah Friedman remains hospitalized in serious but stable condition. She suffers from internal injuries.

"My wife is expected to have a quick and full recovery with God's help," said Ya'akov Friedman at Blima's funeral. "The new baby must pray for us to the creator, to help our family recover," the father added.

Meanwhile, Ghumann was charged with unauthorized use of a vehicle and was released on a bail of $5,000. Ghumann, who is a student at a local college, had been arrested in the past for possession of Marijuana.