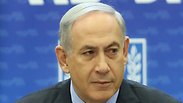 Is Netanyahu's win a done deal?
Photo: Barel Efraim
"The coming elections are about one question: Who will lead the government amid the massive challenges facing Israel?" Prime Minister Netanyahu said after he sent Israel to a snap election.

Though his victory is almost assured, there are a few wild balls in play, from the foreign minsiter's new regional peace plan to a former Likud star politican who is working on his comeback:
The new kid in town
Netanyahu's former communications minister Moshe Kahlon made his name by succeeding in lowering Israel's mobile phone charges. Now he is forming a new party and promising to attack the high cost of living in general.

Kahlon comes from the Likud - but he probably knows that Israel is expensive largely because of high security costs, the heavily subsidized West Bank settlement project, and the economically dependent fast growing ultra-Orthodox sector.

These are all touchstone issues for the left, and Kahlon has taken to hinting that the Holy Land must indeed be partitioned among Israelis and Palestinians. Polling at around 10 percent, he will probably take votes from both camps.

In theory, he could end up denying the right-wing bloc a majority and joining with the left - or united with Finance Minister Lapid or others before the vote. No one knows if he really would - perhaps not even the smiling, down-to-earth Kahlon himself.
The Lieberman factor
Soviet-born Avigdor Lieberman is a former Netanyahu aide who leads a party that appeals mostly to Israel's generally hawkish Russian speakers and is also polling around 10 percent.
He has always been in the right-wing bloc - yet Lieberman too now speaks of the need to partition the land. He goes further still, suggesting Israel should give up not only parts of the West Bank but also bits of its internationally recognized territory that are heavily populated with Israeli Arab citizens - an idea that confounds observers by seeming dovish and ultra-nationalist at the same time.
Some see a plot to steal votes from the left. So profound is the cynicism that this wily ex-nightclub bouncer projects that few can ideologically pin him down. Proceed with caution: Lieberman, described by Palestinians as the world's only foreign minister who lives abroad, is a settler in the occupied West Bank.
Ultra-Orthodox grudge
Netanyahu didn't just keep the ultra-Orthodox parties out of his coalition in 2013. To appease the staunchly secular Lapid, the government passed laws curtailing the sweeping draft exemptions of seminary students and considered other measures that shocked their insular, impoverished electorate - like reducing subsidies to their sectarian schools and imposing science studies in hopes of making graduates more employable.

There was a sense that this betrayal might have broken up the right-religious bloc, that in the next election the religious might back the left. That would basically doom Netanyahu, but he is hoping they'll forgive and forget. He may not hope in vain: the signs are that they mostly blame Lapid.
It's security, stupid
In a country whose right to exist is contested, whose borders are unclear and whose people have never known a day of real peace, it matters what the security people say after they retire and can speak their mind.

So it is politically relevant that in a recent documentary film, all six of the former heads of the Shin Bet security service living at the time criticized the West Bank occupation. The most recently retired Shin Bet chief, Yuval Diskin, has been scathing in his attacks on Netanyahu.

Key retired chiefs of the Mossad spy agency seem in much the same vein. One of them, Shabtai Shavit, wrote an impassioned essay in recent days about his fear for the future of Israel. Most top military figures are cut from similar cloth. Expect the opposition to try to recruit some of these figures.
Israeli Arab turnout
Israeli Arabs, Palestinians who found themselves in what became Israel after the 1948-1949 war, account for about a fifth of the population of 8 million. Yet the parties that represent them - considered part of the left bloc - hold less than a tenth of the seats due to low turnout. Many Israeli Arabs are ambivalent about Israel and some are just despondent after decades of living in underfunded communities with limited opportunities.

The leaders of parliament's three Arab parties are talking about uniting and launching a get-out-the-vote campaign at what is looking like a make-or-break moment in their fellow Palestinians' drive for a state. Israel's new President Reuven Rivlin, another Likud veteran who appears to have turned on Netanyahu, has reached out to this population as well. A big turnout could change the game.