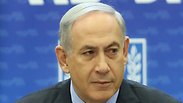 Netanyahu pushing ad hoc budget revisions while Knesset disbands
Photo: Barel Efraim
The Israeli government – now heading to elections and devoid of its original centrist partners – is hoping to pass a massive cash boost to the defense budget at the expense of social services.

"Netanyahu should be ashamed," said an opposition MK, slamming the move as political opportunism.

The issue of the defense budget is a contentious one that had pitted Prime Minister Benjamin Netanyahu and his Defense Minister Moshe Ya'alon against now dismissed finance minister Yair Lapid after the summer's Gaza war. At the time the two sides reached an agreement to increase defense spending without raising taxes, but now that Lapid is out of the government, Netanyahu hopes to see more far-reaching funding pass.

On Monday, the Knesset's Finance Committee will discuss a NIS 2.5 billion addition to this year's defense budget. The following day the committee will deliberate regarding another NIS 1.26 billion. While the latter will be taken from reserves to cover the costs of the 50-day summer conflict, the rest will come from social services.

According to assessments, NIS 311 million will be cut from public transportation subsidies, NIS 350 million from subsidized day care centers, NIS 200 million from the education budget, NIS 60 million from benefits to the periphery – and NIS 40 million from the newly established Holocaust Survivors Authority.

One of the elections' most immediate victims is the 2015 state budget, which was supposed to be voted on in upcoming weeks but has now been delayed until after the March 17th vote. In the meantime, the values from the 2014 budget will be divided into 12 and paid out each month as part of an ad hoc transitional budget. What that means is that spending will be forcibly curtailed, keeping the budget deficit down.

MK Stav Shafir (Labor) slammed the move as political opportunism: "The Finance Committee proves there truly is no shame. With the Knesset preparing to disband, the Finance Ministry (now headed by Netanyahu) plans to cut exactly where it hurts. No one is safe from this round of cuts.

"The government is taking advantage of the fact the Knesset is reaching its end to turn the State's coffer into a Turkish bazaar – Netanyahu should be embarrassed."

The committee's chair, MK Nissan Smolianski, said in response that the move was mostly "technical" and slammed Shafir for using unreliable information from independent think tanks.

"We do not cut from social services," he said.