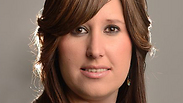 A large number of haredi women are demanding that the political parties representing their sector allow women on their electoral lists for the first time in Israel's history.
The struggle began on Facebook – under the slogan "no votes without representation", around 3,000 members of the social network have called for women to boycott the haredi factions in their current formulation.
The feminist campaign was ramped up Friday morning by an open letter from a prominent public action group to the leaders of Shas and United Torah Judaism that formally outlined demands.
"This is the moment for historic justice, and it's in your hands," the group stated in the letter. "We are convinced that female representation will succeed in bringing our concerns to the Knesset in a fair and just manner. There are many talented haredi women who would be happy to faithfully handle public needs.
"The time has come for us to receive the respect we deserve as primary bread-winners and as those who hold the world of Torah on our backs, in the form of appropriate female representation in the haredi lists. We will respect any suitable female representative that you choose and we will feel that she is our emissary, the emissary of 50% of your voters."
Among the signatories were a number of potential politicians. One of the most prominent was Racheli Ibenboim, 29, a member of the Ger Hasidic group in Jerusalem. Ibenboim was recently nominated to city council by Bayit Yehudi, but dropped out after receiving threats.
"Our place in haredi society is becoming more central, and we have representation in many areas – just not politics," she said. "There is a series of burning issues that aren't being dealt with, such as employment, salary, and lack of awareness regarding health that causes haredi women to have higher mortality from breast cancer.
"These things must be taken care of. It doesn't have to be a feminist activist – we would be very happy if our representative were a rabbi – as long as she's talented."
Another signatory, Michal Chernovitzky, 34, of El'ad, ran a pioneering party that included only women, but failed to be elected. "I don't think that the reason there aren't female haredi politicians is the rabbis," she said. "The leaders simply don't like giving up centers of power.
"Aryeh Deri, for example, is constantly using his wife, who doesn't want to go into politics, as an example. So here, we are saying that's not true. Haredi women do want to run, and it's time for that to happen. Moshe Gafni has even been quoted in the past saying that if a haredi woman asked to run, he would vacate his seat for her. So here you go, Gafni, vacate your seat."
Social activist Esty Reider-Indorsky, 42, of Ramat Gan was committed not to vote for a woman-free haredi party this time. "I have voted for United Torah Judaism ever since I was 18, and this is the first time I won't be going to vote," she declared.
"I don't accept the claim that because rabbinical leaders oppose this, then it should be forbidden. The rabbis are attentive to the peoples' whisperings, and in the past they also opposed education and foreign wigs, and years later allowed them. Ultimately there's no real obstacle, and there's no reason for the Knesset not to have representation for half the population."
There has been a female haredi MK in the past, but Tzvia Greenfeld belonged to Meretz, not a haredi party. Ahead of the upcoming elections, some parties are courting Adina Bar Shalom, daughter of Rabbi Ovadia Yosef and recipient of the Israel Prize, but none of them from the haredi sector. Bar Shalom refused Thursday to say whether she had decided to run for the next Knesset.
Some haredi women are active in the political arena, but not as MKs. Menachem Moses of United Torah Judaism has a female haredi aide, and even President Reuven Rivlin has a female haredi bureau chief – Rivka Ravitz, widow of the late MK Avraham Ravitz.
Will female MKs from the haredi sector join them in March? Time will tell. Meanwhile, Shas and United Torah Judaism refused to react to the open letter.