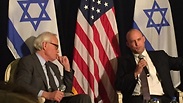 Naftali Bennett
Photo: Peter Halmagyi
"You are living in a different reality," former US Special Envoy for Israeli-Palestinian negotiations Martin Indyk told Economy Minister Naftali Bennett on Saturday night at the 11th annual Saban Forum held by the Brookings Institute Center for Middle East Policy in Washington DC.
The tensions were evident between Bennett and his interviewer Indyk, who now serves as the Brookings Institute's Foreign Policy director.
The Bayit Yehudi leader criticized the peace-making industry for trying to solve an "unsolvable problem."
"The reality is (the peace process) is not working," said Bennett. "Not every problem has a solution. What do you do when there is something you cannot solve? You improve life."
Bennett offered that instead of funding the "peace-making industry," funds should be directed to better the lives of Jews and Arabs living in the West Bank.
More specifically, Bennett offered these funds be used to help solve traffic issues in the area.
He further claimed that "the last thing any Arab wants in Jerusalem is to be under the corrupt Palestinian Authority."
The economy minister defended himself for calling Palestinian President Mahmoud Abbas "a terrorist" recently and said, Abbas is "inciting and corrupting the brains of the next generation."
Regarding the recent political turmoil in Israel, Bennett said he had no knowledge of any attempts by Prime Minister Benjamin Netanyahu to create a different coalition and prevent new elections.
He welcomed the new elections saying, "We must go to the public and ask for its trust."
Bennett also responded to claims he was obsessed with becoming prime minister and said, "Prime minister is not an obsession in my perspective. I want to help lead Israel in the vision I believe in. The vision of a lighthouse in a Muslim storm."
"These elections will be about whether Israel will adopt a policy of strength or weakness," said Bennett.
The Bayit Yehudi leader said he had made a deal with Likud leader Netanyahu that the two would not attack each other during the upcoming elections and instead build a coalition together.
Despite these claims, Bennett still held criticism of Netanyahu for his leadership and strategic choices during Operation Protective Edge over the summer.
Bennett said he and Netanyahu were in strong disagreement during the Gaza war. "I thought we needed to go in and destroy the tunnels twenty days before we went in," said Bennett.
"The generals were not right. I was critical of Bibi and I am still critical of him. He made mistakes and supports a Palestinian state," said Bennett, using a common nickname for the prime minister.
Indyk asked Bennett why he was harshly critical of US Secretary of State John Kerry, who was scheduled to speak at the conference on Sunday.
"America is Israel's best friend. Kerry is a friend. Netanyahu speaks positively about Kerry," responded Bennett, who avoided apologizing for his previous remarks in the media in which he claimed Kerry was inciting terror and anti-Semitism around the world.
Indyk responded and said that there is a feeling that the Israeli right treats US officials with a lack of respect. "You gain political points for attacking the United States and don't pay a price," Indyk accused.