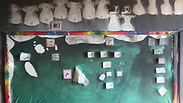 ניסיון הצתה שריפה ביה"ס בית ספר דו לשוני ירושלים תג מחיר
Photo: Gil Yohanan
The mother of one of the suspects in an arson attack on a Jewish-Arab school in Jerusalem last week declared Monday that she would have set the school alight as well, were it not for the law, and that Jews and Arabs should not be studying in mixed classes.
While she shook off accusations of harassment of Arabs, the suspect's mother expressed revulsion at the fact that Jews and Arabs were studying together in the same school. The school was vandalized with graffiti reading "Death to Arabs", "No coexistence with cancer" and "Kahane was right"; books were also piled into the middle of a classroom and set on fire.
"It's disgusting that Jews and Arabs learn side by side," she told Ynet. "If we didn't have a country governed by law, I would have done the same," she said.
"Afterwards people are surprised that Israeli girls go out with Arabs and that there's assimilation. The parents opposed Arabs going to the school, but no one listened," she added.
"They're good kids," she said, "only they have a problem where they antagonize gentiles and Arabs. Why antagonize them? It inflames the whole atmosphere. It causes divisions, the murder of Jews, car attacks at train station, and all kinds of things.
"People who haven't done anything have to suffer because of people who inflame the atmosphere. I really don't know what they did, and I'm not getting involved or helping them. As long as they continue this nonsense, I will not help them."
Regarding the education the suspects had received, she said that "they received a haredi education. The fact that they lapsed a bit and turned their back on Judaism is their problem. It's no one else's problem. They're usually good kids."
Were they taught to hate Arabs?
"Of course not. Not to hate. My father also taught me not to hate Arabs, but to keep your distance. We have no contact with them. Everyone told them (the suspects), 'stop it', but they wouldn't listen. It's a shame that there are people who incite them."
Did someone put them up to this?
"I really don't know. I don't think so. What do you care if a Jewish girl goes with an Arab? It's her problem. She will get punished for it. She wants it. Why do you need to go beat an Arab? It pains me.
"These are daughters of Israel. But what do you care about 15,000 Jewish girls who go with Arabs? Why should you care about it? Mind your own business. He's just destroying his future."
The suspects' attorney, Itamar Ben Gvir, said Sunday that he had been prevented from meeting with his clients.
"The Shin Bet's behavior is disgraceful," he said. "They won't let the suspects meet with me and with another lawyer representing them, Avichai Hajbi. The Shin Bet is ignoring their basic rights, and we issued a request to a court to allow the meetings."
The Petah Tikvah Municipal Court on Sunday extended the suspects' remand until Thursday, although the Shin Bet had requested an eight-day extension.
Aviel Magnezi contributed to this report.