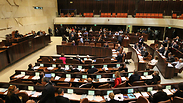 The 19th Knesset on its final day
Photo: Ido Erez
The Knesset voted Monday night to dissolve and head for elections, after only 671 days - less than half of its full term.
Out of a 120 MKs, 93 voted in favor of dissolving the Knesset in second and third readings. No one vote against the motion, and no one abstained.
Ahead of the vote, former finance minister Yair Lapid took to the podium, keeping his comments short: "The prime minister made two mistakes: He took Israel to elections that won't serve the public, and the second mistake: He will lose."
Taking to the podium after him, Meretz leader Zehava Gal-On said she was happy to be voting to dissolve the Knesset, adding: "Good riddance and goodbye."
Knesset Speaker Yuli Edelstein said that while early elections were undesirable and, moreover, "wrong and redundant," in the circumstances created, elections were "the lesser of evils."
"A reality in which legitimate disagreements turn into unfathomable disputes; when differences of opinion turn into personal hatred and lead to score-settling that blocks every initiative and every possibility for cooperation within the coalition - the government turns into an empty vessel, an ineffective body in which each side is occupied with the other's weaknesses," Edelstein went on to say.
Likud faction chairman Yarvin Levin described the third Netanyahu government as "a very difficult coalition, very problematic.
"There was no willingness to understand the other's needs, but even the opposition can't look back at this term with pride. It didn't win any vote. Both the unity in the opposition and the desire to challenge were not enough."
The road to elections began in earnest last week, when Prime Minister Benjamin Netanyahu accused two of his ministers, Yair Lapid and Tzipi Livni, of plotting against him, and promptly dismissed them.
Once the coalition collapsed and a March 17 date was set for the early elections, various center-left politicians began to explore the idea of uniting together to form an "anyone but Netanyahu" bloc.
The vote rang the opening bell for election season, and a series of promises still on the agenda will be postponed for six months at best; at worst, they will no longer be implemented.
A poll released Sunday raised the possibility that a union between Livni and the Labor Party could create the largest party in a new Knesset. According to the poll, if elections took place today, Likud would fall into second place, with 21 seats versus 23 for a Livni-Herzog ballot.
For many months, the coalition that finally disintegrated last week tried to leap the many pitfalls in its way. Almost every major issue drew heavy fire from both sides. The coalition took on the role of the parliamentary opposition itself – it leveled the harshest criticism and harsh, it thwarted the bills of its own members and stuck down reforms as a way of settling personal accounts.