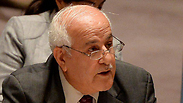 Palestinian UN ambassador Riyad Mansour
Photo: EPA
UNITED NATIONS - The Palestinians on Monday became observers at the summit meeting of the 122 countries that are members of the International Criminal Court at the Hague, a move they say is a step toward joining the world's permanent war crimes tribunal.

Palestinian President Mahmoud Abbas has threatened to seek membership in the ICC in order to press charges against Israel for alleged war crimes.

The Palestinian UN ambassador, Riyad Mansour, said Monday his government is moving in that direction "but that's another step in that process."

The Palestinians' official recognition as an observer came in a procedural move at the opening session of the Assembly of States Parties to the Rome Statute that established the ICC.

Mansour called the assembly's decision "a further enhancement of our status" in the court and in the international arena.