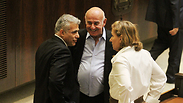 Lapid and Livni with Yaakov Perry on Monday
Photo: Ido Erez
With some polls pointing to a possible electoral victory for a central bloc, Yesh Atid Chairman Yair Lapid held a one-on-one meeting with Hatnuah leader Tzipi Livni on Monday, in an effort to discuss cooperation ahead of the upcoming election.
Livni's meet with Lapid comes after she received a Labor Party proposal to bring her in as No. 2 on their party list, after opposition leader Isaac Herzog. Livni told Herzog that she would consider her options over the next few days before deciding in what capacity she will run.
Despite the meeting with Lapid, it is generally assumed that Livni will cooperate with Herzog and that the two will announce details of a joint list by the weekend. Herzog said last week that he had told his wife he planned to "work on the relationship with Livni."
Members of Yesh Atid and Hatnuah alike refused to comment on Monday's meeting.
Livni and Lapid arranged to meet in the Knesset on Monday, following her return from the Saban Forum in Washington. They discussed options for running together and the best strategy for defeating the right-wing bloc.
Yesh Atid representatives told Livni that if she joined the party, along with two or three of her faction's MKs, they would create an attractive llist, which could yield in far much larger number of seats than expected.
They said that such cooperation could help advance several issues on which Livni and Lapid agree, such as the peace process and a series of measures related to religion and state promoted in the 19th Knesset by Elazar Stern of Hatnuah and Shai Piron for Yesh Atid.
While the expectation that Livni will join Labor remains unchanged, the center bloc has agreed to present the public with a united front, out of a desire to win as many seats as possible and oust Prime Minister Benjamin Netanyahu.