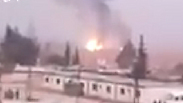 The alleged attack in Syria
The purported attack by Israel Air Force jets against weapons depots in Syria on Sunday has revealed new smuggling routes into Lebanon, the London-based newspaper Asharq Al-Awsat reported Monday.
Syrian opposition sources claim the target of the reportedly Israeli strike was Dimas, a closed military area under the supervision of Syria's Fourth Armored Division, which is headed by President Bashar Assad's brother, Maher.
The area is about 40 kilometers from the traditional smuggling routes between Syria and Lebanon – the artery stretching from Zabadani, west of Damascus, to Lebanese soil.
According to Syrian opposition members, the smuggling routes passing through Lebanon's Bekaa Valley are the conventional path for transporting weapons. These routes pass mainly through towns and villages dominated by Hezbollah, and which contain training camps for terror groups.
Asharq Al-Awsat reported that once the Syrian opposition took control of sizable portions of the Syria-Lebanon border region, some of them became the sites of lengthy combat, creating a logistical hurdle for weapons smuggling.
Senior sources in the Free Syrian Army said Dimas contained an air field used for army training, as well as other military installations.
Rami Abdul Rahman, founder of the Syrian Observatory for Human Rights, told Asharq Al-Awsat that "the Dimas area contains weapons caches, including at least one with rockets." He said they were "old" storage facilities that had mostly become a repository for Hezbollah weapons. He further claimed Hezbollah was believed to command some of them, despite the fact that Syria's Fourth Division was officially in control.
Rahman added that the evidence suggested Hezbollah was concentrating its rockets in the facilities before transporting them to Lebanon. He said the attack on the air field in Damascus targeted weapons caches, which contained supplies and equipment, but no strategic weaponry.
The Saudi newspaper Al Watan quoted Syrian opposition sources, who said the alleged Israeli attack targeted Russian-made S-300 surface-to-air missiles, which Damascus was trying to smuggle into Lebanon. The newspaper's sources also said the facilities were utterly destroyed.