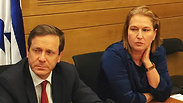 Herzog and Livni
Photo: Daniel Harush
While Hatnua's Tzipi Livni has yet to announce who she will be joining forces with - Labor or Yesh Atid - a poll released Tuesday show once again that a union between Livni and Isaac Herzog's Labor in the upcoming March 17 elections will be more beneficial, making the joint party the biggest party in the Knesset.

A Channel 10 poll released on Tuesday found Livni and Herzog together would win 22 mandates, while Likud - whether led by Prime Minister Benjamin Netanyahu or former interior minister Gideon Sa'ar - would get 20 mandates.

Bayit Yehudi would get 15 Knesset seats, Moshe Kahlon's party would end up with 13, Yisrael Beiteinu led by Avigdor Lieberman would get 11, Yesh Atid 10, Shas 7, United Torah Judaism 7 and Meretz 6. Hadash would get 5, UAL-Ta'al 4, and Hanin Zoabi's Balad party would not pass the threshold.

A similar result arose in a Knesset channel poll on Monday, that found a joint Herzog-Livni run would yield 23 seats while Likud would receive 21 seats.

When asked how suitable each candidate was to serve as prime minister, Netanyahu received 23 percent support, Labor leader Herzog significantly narrowed the gap to 22 percent support, Sa'ar received 13 percent support despite not being currently the leader of a political faction, while Bayit Yehudi leader Naftali Bennett also received 13 percent. Lieberman and Kahlon each got 10 percent support. Yesh Atid leader Yair Lapid got 9 percent support.

When asked "do you believe Netanyahu's promise to pass 0% VAT on basic essentials?" 62 percent said they did not believe Netanyahu and only 22 percent said they did.

The poll was conducted by the internet panel of "The Midgam Project" company, led by Dr. Ariel Ayalon and supervised by Prof. Kamil Fox of Tel Aviv University.

The poll included 545 respondents and was analyzed according to sectors, gender, age and their Knesset vote in the 2013 elections.