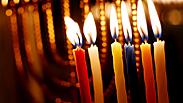 Happy Hanukkah!
Photo: Shutterstock
Public Hanukkah celebrations are being planned around the US and abroad, from a parade of menorah-topped cars in Philadelphia to a menorah lighting and concert at the Eiffel Tower.

The event in Philadelphia on December 20 is expected to include 300 cars, culminating in a gathering at Independence Hall. The event is one of hundreds sponsored around the world by the Chabad Lubavitch outreach organization, which launched its public menorah celebrations 40 years ago in Philadelphia.

Jewish Holiday

Some may say, 'Oy vey!' to all the kitschy retooling of Christmas stuff for Jewish consumers. But others ask, 'Why not?'

Nightly lightings are also planned in US cities ranging from San Francisco, at Union Square; to New York City, just outside Central Park near the Plaza Hotel; to Washington DC on the Ellipse.

Basketball and hockey arenas are also hosting Hanukkah celebrations. The Miami Heat will host a menorah-lighting ceremony between the first and second periods December 17, while the Brooklyn Nets will host one December 21.

Other Hanukkah events are scheduled for the NBA stadiums of the Orlando Magic, San Antonio Spurs, Houston Rockets, Dallas Mavericks, and Atlanta Hawks, as well as the NHL arenas of the Nashville Predators, Detroit Red Wings and the Columbus Blue Jackets.

International events range from a menorah lighting December 18 geared to vacationers in Aruba, at the terminal where international cruises dock, to a celebration in Moscow in Revolution Square on December 16. Thirteen menorahs in all will be erected around Moscow for the holiday.

Crowds in London's Trafalgar Square are expected for the lighting of a 30-foot menorah outfitted with environmentally-friendly bulbs commissioned by the London Climate Change Agency. Another lighting is planned with a concert in Paris at the Eiffel Tower December 21.

The eight-day Jewish holiday of Hanukkah begins at sundown December 16. The public menorahs will be lit each night, but the exact timing varies due to observances of the Jewish Sabbath on Friday and Saturday nights and other scheduling details, so check before you go at www.hanukkah.org/events.

Chabad-Lubavitch headquarters in Brooklyn, NY, was in the news Tuesday when police fatally shot an emotionally disturbed man who had stabbed an Israeli student at a synagogue there.