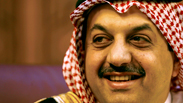 Qatari Foreign Minster Khalid bin Mohammed Al-Attiyah
Photo: Reuters
The six-member Gulf Cooperation Council, which is concerned about Shiite Iran's regional influence and the rise of Sunni extremist groups throughout the region, agreed on Tuesday to create a regional police force based out of the United Arab Emirates' capital of Abu Dhabi and a joint naval force based out of Bahrain.

The creation of the police force, known as GCC-POL, and the naval force were announced at the conclusion of the Gulf bloc's annual summit in Qatar. The meeting was held just weeks after the Western-allied countries reached a reconciliation agreement linked to Qatar's support for Islamist groups throughout the region.

The summit took place on the same day that the price of brent crude oil hit a five-year low of $65, with Kuwait's emir warning in his remarks that the slide in price is impacting development programs. Gulf monarchs rely on income from oil to sustain generous welfare programs used to appease the public.

Qatari Foreign Minster Khalid bin Mohammed Al-Attiyah said the police force would improve cooperation against terrorism. "It will be an Interpol-like force but inside GCC countries," he said at a news conference.

State-linked local newspapers say the police force is also expected to tackle drug trafficking, money laundering and cyber-crime.

"The emergence of terrorism ... requires a concerted group effort from us and the international community to reach its root causes and cure its real political, social and economic causes," Qatar's Emir Tamim bin Hamad Al-Thani said at the opening of the summit.

The Gulf monarchies hold that the marginalization of Sunnis in Iraq and Syria is a factor for the rise of extremist militants in those countries. Qatar and Saudi Arabia are staunch backers of Sunni rebels in Syria seeking to oust Iranian-backed President Bashar Assad.

Of the six GCC nations, Saudi Arabia, the UAE and Bahrain have taken part in airstrikes against Islamic State militants in Iraq and Syria. Qatar and Kuwait are hosting bases for Western countries active in the US-led coalition.

The GCC also includes Oman. The bloc already has an emergency military force called Peninsula Shield, which intervened in Bahrain to help the monarchy crush protests led by the Shiite majority in 2011.

The plan for a joint naval force was announced in the summit's final communiqué, without giving further details.

Bahrain currently hosts the US Navy's 5th Fleet. The Gulf naval force there is expected to act as deterrence to Iran, which shares the world's largest gas field with Qatar in the Persian Gulf. The Sunni-led monarchies of the Gulf have collectively spent billions of dollars on US and European military equipment amid lingering regional tensions with Iran.

In its statement, the GCC called on Iran to respect its members-states' national sovereignty. Gulf leaders have accused Iran in the past of meddling in Iraq, Syria, Yemen, Bahrain and eastern Saudi Arabia.

The GCC also condemned the use of arms by Shiite rebel Houthis in Yemen, and called on the rebels to withdraw from areas they have overrun. It also condemned Israeli actions against Palestinians in Jerusalem.

The Arab Gulf countries additionally expressed their political backing for Egypt's President Abdel-Fattah al-Sisi. It marks a pivot for Qatar, which backed former Islamist President Mohammed Morsi, who al-Sisi ousted from power amid widespread protests last year when he was defense minister.

"There has never been disagreement between Qatar and Egypt for there to be reconciliation," Qatar's foreign minister said after the summit. "Egypt is strong and capable and is the backbone of all Arabs."

Saudi Arabia, the UAE and Bahrain formally withdrew their ambassadors from Qatar in March in a move widely seen as a protest over Doha's support for Islamist groups like the Muslim Brotherhood, of which Morsi was a leading member. They reinstated ambassadors last month after an agreement was reached.

Egypt, Saudi Arabia and the UAE consider the Brotherhood a "terrorist group" and see the 86 year-old movement as a political threat.

Saudi Crown Prince Salman bin Abdulaziz Al Saud and UAE Prime Minister and Vice President Sheikh Mohammed bin Rashid Al-Maktoum took part in the summit. Prince Salman is next-in-line to the Saudi throne, while Sheikh Mohammed also serves as ruler of Dubai.

Also in attendance were Bahraini King Hamad bin Isa Al-Khalifa, Kuwaiti Emir Sheikh Sabah Al-Ahmad Al-Sabah and a senior official from Oman.