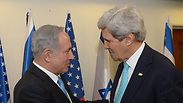 Kerry with Netanyahu
Photo: Amos Ben Gershom, GPO
US Secretary of State John Kerry has invited Israel's Prime Minister Benjamin Netanyahu for a meeting ahead of a UN Security Council discussion on the Palestinian-Jordanian and French proposals for declaring a Palestinian state, it was announced Wednesday.

Netanyahu will depart Monday for an impromptu visit in Rome to participate in talks with Kerry. Israel vehemently opposes the proposals, and the US is working to soften the wording to avoid a veto.

The Jordanian proposal stipulates an end to the occupation and the establishment of a Palestinian state, while the French one creates a two-year timeframe for negotiations, at the end of which a Palestinian nation will be formally established. Israel rejects both proposals.

Related stories:

On Tuesday former Palestinian peace negotiator Saeb Erekat stressed that Israel going to elections changes nothing for the Palestinians, who will push ahead with their efforts to pass a resolution at the UN Security Council setting a November 2016 deadline for Israeli withdrawal from the West Bank and East Jerusalem.

He said the draft resolution will be submitted within the next two weeks, and no later than December 25.

"I believe if we keep working to achieve a Security Council resolution to set a defined schedule for Israeli withdrawal from the West Bank, which will lead to us joining treaties and international bodies, and to a situation in which the European parliaments continue recognizing Palestine, then the people in Israel will tell the right-wing, 'is this what you're bringing upon us?'"

The Palestinians on Monday became observers at the summit meeting of the 122 countries that are members of the International Criminal Court at the Hague, a move they say is a step toward joining the world's permanent war crimes tribunal.

Palestinian President Abbas has threatened to seek membership in the ICC in order to press charges against Israel for alleged war crimes.

The Palestinian UN ambassador, Riyad Mansour, said Monday his government is moving in that direction "but that's another step in that process."

The Palestinians' official recognition as an observer came in a procedural move at the opening session of the Assembly of States Parties to the Rome Statute that established the ICC.

Mansour called the assembly's decision "a further enhancement of our status" in the court and in the international arena.