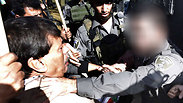 Physical clash between Abu Ein and Israeli security
Photo: AFP
EU Foreign Minister Federica Mogherini called for an "immediate, independent investigation" into the death of Palestinian minister Ziad Abu Ein, who died during clashes with Israeli security forces at a protest near Ramallah on Wednesday.

The top European diplomat said allegations on "excessive use of force by Israeli security forces are extremely worrying" and said the incident was a "dramatic reminder for the entire international community of the deteriorating situation on the ground."

Mogherini asked all parties to avoid any action that may escalate tensions, urging "maximum restraint." Earlier in the day, the UN envoy to the Middle East, Robert Serry, had urged "the Israeli authorities to conduct a prompt, thorough, and transparent investigation."

Special Coordinator Robert Serry also expressed his condolences to "Abu Ein's family, the Palestinian people, and its leadership" and appealed for calm in the wake of the incident.

While the Israel Defense Forces said it was looking into the incident, the Palestinian Authority said it was weighing its response – with some officials calling for an end to security cooperation with Israeli forces.

Some reports said that Abu Ein had been struck by a member of the Israeli security forces prior to his death, while others said that he had inhaled tear gas. Video from the incident shows Abu Ein arguing with security forces, including a moment when what appears to be a member of the Border Police with his hand around the minister's neck.

Palestinians claimed the minister, who reportedly suffered from an unspecified illness and which could have played a role in his death, had been hit in the chest by the butt of a soldier's gun, and then collapsed.

He was then taken to hospital in Ramallah, where he was pronounced dead.

Palestinian President Mahmoud Abbas called Abu Ein's death "barbaric," and said that the Palestinians "will take the necessary steps after we learn the results of the investigation into his death's circumstances." He called for a three-day mourning period throughout the Palestinian Authority.

PA Foreign Minister Riyad Al-Maliki said that "Israel would pay" for the "murder" of Abu Ein.

Elior Levy contributed to this report.