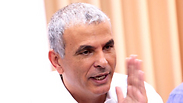 Former minister Kahlon
Photo: Motti Kimchi
The new breakaway star in Israel's political center has picked a name for his newly-formed faction: Kulanu ("All of us" in Hebrew).

Moshe Kahlon, the popular ex-Likud minister, will lead the party after signing a voter surplus agreement with Yisrael Beiteinu's Avigdor Lieberman, under which the sum of the two parties' additional votes are combined and an extra seat is given to the party with more surplus votes.

Kahlon, running on a platform which highlights his success in breaking the cellular service monopoly, took the unusual step of discussing his diplomatic policies last week.

Kahlon, the communications minister in Netanyahu's previous government, defined the current situation as a "diplomatic siege" and said that "the real Likud knows how to concede territory."

The former minister, a rising star in the Likud until he announced a break from politics, presented his position on the difficult diplomatic dilemma faced by every prime minister since 1967. "I am a product of the Likud and my worldview is center, slightly leaning to the right."

Kahlon presented his faction as the pragmatic alternative. "Real Likud knew how to make peace, how to concede territory, but on the other hand was responsibly conservative. My world view, in general, is core Likud, which truly intends to safeguard the State of Israel."

Referring to the historic peace between Israel and Egypt under the leadership of Likud leader prime minister Menachem Begin, Kahlon continued: "When we needed to make peace with the largest of Arab states, we did. When we needed to concede – we conceded."

Kahlon hinted that he would support a renewal of the peace process and criticized the prime minister for damaging Israel's international reputation. "My friends and I will not miss a chance for peace. I believe we must act on that front. The diplomatic siege is not good for us, and we will act on it."

The former minister, which various polls show garnering some 10 seats in the Knesset, lectured on Friday at a general forum of the Open University at Tel Aviv University; he later met with young activists at a local Tel Aviv pub.

Earlier in the week, Kahlon spoke with economics students at Haifa University, where he presented his reasons for breaking away from the Likud. "I am establishing my own political framework. I was within a good, strong frame – but I made this move for our children. I reached the conclusion we needed another way, with its own agenda and its own people – professionals who are not afraid to serve the people and not the interests."