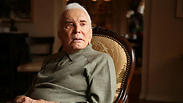 Kirk Douglas is done with writing.

The rakish screen legend with the famously dimpled chin made that abundantly clear on a recent afternoon at his Beverly Hills home, a few days before the release of his poetry collection "Life Could Be Verse: Reflections on Love, Loss, and What Really Matters."

"To me, this is my best book, and my last book," said Douglas, seated next to Anne Douglas, his wife of over 60 years. It was a pronouncement that came up more than a few times. The "Spartacus" star, who just turned 98, has 87 films to his name, 11 books, and is one of the last living members of old Hollywood. By now, the world probably thinks it knows Kirk Douglas.

But in some ways, "Life Could Be Verse" is his most personal work, featuring poems from throughout his life along with essays and private family photos that help paint a picture of Douglas as a man, a father and a husband.

In an industry not known for domestic stability, Kirk and Anne Douglas may be one of the great Hollywood romances. Seated closely on a cozy couch in a home that is elegant, modest and lived-in, the couple recalled their first meeting in Paris. He was working on the film "Act of Love." She was the publicist.

"I thought she was so beautiful, and I lowered my voice and said, 'Would you like to have dinner?'" he said. "I waited for an answer and she said, 'No, I think I will go home and make some eggs and go to bed.'"

Anne Douglas (then Buydens) had her own thoughts about transient movie stars. A lot of her friends were going out with actors at the time. "I said to myself, I'm not going to do that. I will work and I will do my work for the movie that I was hired for, but no intimate connection with the movie stars," she said.

Then she attended a charity event where actors played the parts of circus performers. Kirk Douglas, sporting a tuxedo, decided his talent would be cleaning up after the elephants.

"I held on until he picked up the elephant doo," she said, laughing heartily. "That did it for me."

Douglas, not missing a beat, chimed in: "Obviously she was looking for a garbage collector."

Still, a cute beginning is hardly noteworthy. Longevity is. "Romance begins at 80, and I ought to know," he said, referencing one of his poems.

"I'm a romantic guy. You think I'm always shooting guns with John Wayne, but I can be romantic. And, listen, we're sitting here. We have been married for 60 years. A few poems help."

Romance is just one of their secrets. Over the years, they have devoted themselves to philanthropy. The shared passion has been important for the couple, who've endured tragedy and loss, including his stroke in 1996 and the death of their youngest son, Eric Douglas, in 2004.

"Our goal has been, since we're able to do that, to help a little bit and to share what you have with those in need. That has been a very big bond between us," said Anne Douglas.

They've sold art from their personal collection to help fund various causes, including the restoration of over 400 playgrounds in the Los Angeles area and the development of a shelter for homeless women downtown. In 2012, the couple pledged $50 million to five charitable organizations.

Giving has been in Kirk Douglas' bones since childhood. "I was a boy who didn't have enough to eat. I had six sisters, no brothers. We were living by the railroad tracks and every night, hobos would come and knock on the door. And even though we didn't have enough, my mother always saved something so when they came to the door, she had something to give them. She taught me at an early age to help other people."

His career is pointedly on the back burner as he reflects on his life. A rebel on the screen and off, he counts crediting blacklisted screenwriter Dalton Trumbo on "Spartacus" as his most rebellious move. "I was much younger then, and I was much more stubborn," he said.

Now, Kirk and Anne Douglas are focused on their home, family and reflecting on a life well-lived. They recently hosted Thanksgiving at their home near Santa Barbara. Among the 14 attendees were Michael Douglas, his children and Michael Douglas' mother, actress Diana Dill, whom Anne Douglas refers to as "our ex-wife."

"We are living in a town of make-believe. I have done about 90 movies. That means that every time I was pretending to be someone else. There comes a time in your life when you say, well, 'who am I?'" he said. "I have found writing books a good substitute to making pictures. When you write a book, you get to determine what part you are playing."