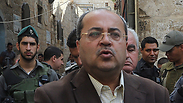 UAL-Ta'al MK Ahmed Tibi
Photo: Gil Yohanan
Almost half of Israeli-Arabs want MK Ahmed Tibi to lead a united Arab faction in the upcoming March 17 elections, according to a poll conducted by Statnet earlier this month.

When asked "who would you prefer to lead a united list of Arab parties?", 47.1 percent said they wanted to see UAL-Ta'al MK Tibi, while only 3.7 percent preferred Hadash MK Mohammad Barakeh, 2.2 wanted Balad MK Jamal Zahalka and a similar numbered supported Balad MK Hanin Zoabi to chair the list. A large portion of respondents, 38.8 percent, said it did not matter who the candidate was, or that they didn't know, while 6 percent suggested other candidates.




When discarding those who answered "I don't know" or "It doesn't matter," Tibi leads the fray with 76.9 percent of support, with Barakeh is distant second with only 6.1 percent.

The survey also found that 82.4 percent of eligible Israeli Arab voters think the Arab parties should unite to form one list, and only 6.5 percent oppose such a move.

Following the decision to raise the threshold from 2 percent to 3.25 percent - thus leaving Arab parties no choice but to join forces - the poll found that 62 percent of Israeli Arabs plan to vote in the upcoming elections, compared to 56 percent who voted in 2013, and 53 percent who voted in 2009.

Out of those who don't intend to vote, 14.1 percent said they might change their minds and vote because of the higher threshold. In addition, 38 percent of those who have yet to decide whether or not to vote said they might change their minds.

Prof. Assad Ghanem from the Political Science Department at Haifa University said the voters' wishes must be respected.

"The low voter turnout derives from, among other things, the lack of consideration and (politicians) ignoring the Arab public's wishes," Prof. Ghanem said. "The Arab public can once again punish the list, if they don't listen to its wishes."

The low voter turnout, Prof. Ghanem said, derives from the struggle between the different factions, and if the voter feels like his vote is not going to waste, he will come out to vote.

In addition, some planned legislation, mostly the 'Nationality Law,' can explain the higher voter turnout the survey predicts.

The survey, ordered by "The Arab Democracy Institute," polled 850 respondents who reflect the division of Israeli Arabs in different geographical areas and to different faiths.