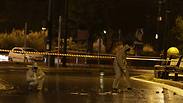 Israeli embassy in Athens
Photo: AP
Greek authorities are investigating a pre-dawn, drive-by gunfire attack on the Israeli embassy in Athens, which caused no injuries or damage.

Police closed off a major road outside the embassy early Friday and forensics experts in white protective clothing were searching the area.

Four people on two motorcycles fired shots at the embassy building in a northern suburb of Athens, a police official said. Bullets were lodged in the walls and 54 spent bullet cases were found about 40 yards from the building, police said.

The Greek government condemned the incident.

"Any terrorist attack hitting at the heart of democracy hits the heart of the country," government spokeswoman Sofia Voultepsi said.

Israel's foreign office condemned the shooting and called on the international community to censure incitement against Israel. "The attack is the result of anti-Israeli incitement by Palestinians," read a statement from the ministry. "This incitement is spread around the globe by President Mahmoud Abbas and pro-Palestinian organizations."

The ministry added that "Israel thanks the Greek authorities for their close cooperation in investigating the incident."




Three years ago, a mob stormed the Israeli Embassy in Cairo, resulting in the rescue of six Israelis by Egyptian commandos, following the intervention of US President Barack Obama.

One year ago, a small left-wing terrorist group called "Popular Fighters" claimed responsibility for a similar gunfire attack outside the German ambassador's residence in Athens, which caused no injuries.