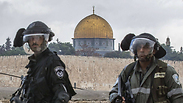 Forces outside Temple Mount
Photo: AFP
Palestinian President Abbas mulls response to Abu Ein's death
Photo: Reuters
A Palestinian driver ran into a concrete barrier not far from Nablus. The barrier was part of an IDF outpost and a large group of soldiers were present at the scene.
No injuries were sustained to the forces but the Palestinian was lightly wounded and is being questioned at the scene. It is unclear whether this was an accident or an intended attack.
Reports of attempted attack at Huwwara, Palestinian tried to crash a car in to 2 soldiers. Soldiers jumped aside. Perp detained on site.

— Peter Lerner (@LTCPeterLerner) December 12, 2014
Circumstances of the car crash at Huwwara are being investigated. The Palestinian driver of the car was wounded as he crashed.

— Peter Lerner (@LTCPeterLerner) December 12, 2014



Meanwhile, the police have called reinforcements to the Temple Mount and Old City area in Jerusalem for fear of protests spiraling out of control after the end of the Friday Muslim prayers, in wake of the death of Palestinian Minister Ziad Abu Ein.




This week there no age restrictions have been set for entering the Temple Mount, continuing the policy in place every Friday over the last month since a previous move to restric the entrance of Muslims to the holy site ended caused major political backlash and a sharp rise in Jerusalem violence.

On Thursday, as hundreds attended Abu Ein's funeral in Ramallah, scores of Palestinians threw stones and hurled burning tires at an IDF outpost at the Cave of Patriarchs in Hebron, while over 50 Palestinians rioted in Turmus Iya in the West Bank, where Abu Ein had died of heart failure Wednesday after an altercation with IDF and police forces.

Meanwhile on Friday, the Palestinian leadership decided to postpone until Sunday a special meeting slated for Friday in which they were supposed to formulate a response to Abu Ein's untimely death.

Though sources in the PA said they believed the reason was the expected meeting between US Secretary of State John Kerry and Israeli Prime Minister Benjamin Netanyahu in Rome on Sunday.

The Palestinians were set to discuss joining the International Criminal Court at The Hague and the Geneva Conventions, and the issue of a Security Council referral for a timetable for an Israeli withdrawal from the West Bank.

Other sources suggested that the postponement was based on a desire for a more comprehensive discussion regarding the repercussions of possibly joining the ICC in The Hague, where it could force Israel to face international crime charges, even if it makes the Palestinians vulnerable to the same type of lawsuits.

The sources explained that the Palestinians could demand the Geneva Convention be implemented in the West Bank, a move which would allow Israel to be charged for alleged offences which took place in the territory, but would by the same token, make the PA responsible for any terror attacks launched at Israel.
Security cooperation
On Thursday, top Palestinian official Saeb Erekat warned that the meeting Friday will redefine the Palestinian Authority's relations with Israel, and in the process consider ending security coordination.

"I and everyone I know are opposed to the security coordination," declared Raid Shawamreh from the A-Ram village during Thursday's funeral for Abu Ein.

"The Palestinian Authority is helping Israel in many areas, and we the common Palestinian people only see Israel doing one thing: killing, house demolitions, arrests, the siege on Gaza and endangering the al-Aqsa mosque. So why we would support security coordination? We don't want it."

According to Shawamreh, if it decides to continue the security coordination, the Palestinian Authority will have a problem in terms of how it is perceived by the street. However, for the meantime at least, it seems the security and civilian coordination between Israel and the Palestinian Authority will continue as usual.

Itay Blumenthal contributed to this report