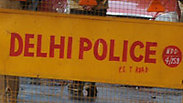 An Indian court sentenced a Sri Lankan citizen to five years of detention after being convicted in planning a terror attack against the Israeli consulate in Bangalore. Mohammed Zakir Hussain was convicted after confessing.

Two other suspects in the affair, Mohammed Salim and Sivabalan, are still on trial. Hussain was arrested several months ago and convicted for planning a terror attack against the US consulate in Chennai, the Israeli consulate in Bangalore, and distributing counterfeit Indian currency.

The Indian National Investigation Agency claimed during the trial that Hussain was an agent of the Pakistani intelligence service ISI, with a handler in the Pakistani embassy in Sri Lanka.

In the past the ISI has been accused to aiding the Pakistani terror group Lashkar-e-Taiba, which was responsible for the attacks in Mumbai in November of 2008, which included the horrific massacre at the Chabad House.

Some two months ago the Indian security services released a notice to all agencies and police stations warning that global jihadi elements may attempt terror attacks on Israeli destinations.

Following the notice, the Indian government reinforced security at destinations and sites visited frequented by Jews and Israelis.

In February 2012, Tali Yehoshua-Koren, the wife of an Israeli Defense Ministry attaché was injured in an attempted assassination when a terrorist stuck a bomb onto her vehicle.

Since that attack, the Indian government has placed an exceptional amount of security officers near the Israeli embassy, who are constantly on high alert.