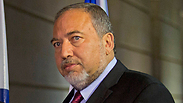 Yisrael Beiteinu chairman Avigdor Lieberman
Photo: EPA
Yisrael Beiteinu chairman Avigdor Lieberman criticized Prime Minister Benjamin Netanyahu's handling of Operation Protective Edge on Saturday, saying that "we were dragged along" in the military operation, rather than "taking the initiative."
Speaking at at a cultural event in Tel Aviv, Lieberman also discussed the upcoming elections, saying that he does not intend to let personal relationships influence his conduct, and noting that he is "not ruling out Buji (Isaac Herzog) or Bibi".
"My relationship with Bibi is not an idyllic relationship. We had arguments and will probably have more. But the approach according to which you rule someone out because of your personal relationship with them is wrong. We must be professional," the foreign minister said.
Lieberman added that "while he genuinely welcomes the Livni-Herzog union" the two missed a central point. The Foreign Minister said that the two "are discussing rotations instead of substance. Let's talk about what they are offering, about which solutions (they are considering). The media is not doing a good job – it categorizes and doesn't examine things carefully to see what is offered."
Discussing his readiness to sit with certain officials in the next government, Lieberman said: "I do not rule out anyone. We do not belong to the 'anyone but Bibi' group. Absolutely not."
At the same time, the foreign minister spoke about his differences with the prime minister: "In politics, as in soccer, it's important to take initiatives, and not get dragged along. During Operation Protective Edge, I said: We must not get dragged along, but we did – we didn't take the initiative."
Lieberman added that he had also said that "If the situation is forced on us and we have no choice – go all the way, don't be wimps."
"I belong to the camp of common sense, the real national camp. I don't run away from problems and don't sweep them under the rug," Lieberman stressed.
"We have to be responsible and serious, not just have slogans. But unfortunately, we are again getting dragged into the act of labeling. There is no left or right wing. There are serious people who don't just tag after others, and there are those who do."
The Likud party hit back at Lieberman on Saturday night, saying that the foreign minister's statements that he is not ruling out sitting in a Labor-led government meant that "votes from the right could go to the left and lead to the establishment of a left-wing government."
Regarding Lieberman's criticism of Netanyahu's handling of the Gaza operation over the summer, the Likud party said that "Netanyahu ran Operation Protective Edge with decisiveness and responsibly, along with the defense minister and IDF chief of staff, and was not dragged into different strange suggestions. The operation was run based on an overarching policy of maintaining the state's security and safeguarding the lives of civilians and soldiers."
Lieberman spoke earlier this month at a press conference before the Knesset decided to dissolve itself, stating that "the elections are a done deal, and we should hold them as quickly as possible," Lieberman said.
"I do not want to deal with the reasons why are at this point, and I still believe we could change course and do not have to have elections," he said. "Now we have to think about how we get back on track immediately after the elections.
"We have many challenges and the elections do not exempt us from dealing with them. We are still a country without a budget, perhaps facing a general strike. There are also challenges in the diplomatic arena and terrorism is also raising it head. We should be coming together and instead we are going to quarrel for several months."