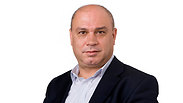 A 19-year-old soldier from Nazareth Illit was arrested on Friday on suspicion he threatened Meretz MK Issawi Frej over comments made by the MK about Amir Benayoun's controversial song 'Ahmed Loves Israel'.

"You must want a bullet between your eyes... this is a warning!!!!" the soldier wrote to Frej on Facebook.

Frej posted the correspondence on his Facebook page on November 25, dubbing it a "dialogue of hate."

He posted a screenshot of a series of messages sent to him by the soldier, who wasn't trying to hide his identity, including: "It'd be a shame if I catch you one of those days"; "What, can't you shut your mouth, you son of a gun?"; "You're begging for a bullet between the eyes."

MK Frej wrote alongside the screenshot: "According to his Facebook page, he's an IDF soldier, and even volunteered in Magen David Adom in the past, and is an avid follower of Rabbi Kahane.

"His dialogue is the dialogue of Amir Benayoun. A dialogue of hate, of murder in his eyes, of racism and nationalism."

Following Frej's post, the Knesset's Sergeant-at-Arms filed a complaint with the Jerusalem police, who passed the complaint on to the Nazareth Illit police, where the soldier resides.

On Friday afternoon the soldier, who serves in a field unit, was arrested and his computer was seized. He admitted to the allegations attributed to him.

The soldier's lawyer, Attorney Said Hadad of the public defender's office, said that the soldier regrets his actions.

"This is a lone soldier who is serving in a combat unit. After traumatic experiences he had during Operation Protective Edge, anger bottled up inside of him over comments made by MK Issawi Frej."

"Straight after sending the messages the soldier realized his mistake, expressed his remorse to those close to him and decided to shut down his Facebook account," the attorney addend. "The soldier stresses he did not mean to act upon the threats he made, and only wanted to express his anger over the situation."

The soldier will be brought to the Nazareth Magistrate's Court on Saturday night for a remand extension.

MK Issawi Frej said in response: "I'm glad the police is taking this seriously. The police's actions are also important to combat the dialogue of hatred and threats, which unfortunately has turned into something that is more and more common in the Israeli society. As someone who believes in the importance of Arab-Jewish cooperation, I will continue fighting for equality and coexistence in the State of Israel and won't allow extremists, full of hatred and loathing, to damage my commitment to act for the values I believe in."

Singer Amir Benayoun caused uproar after releasing his song 'Ahmed Loves Israel' about an Arab student in Jerusalem who is "ungrateful scum" and plans to stab listeners with an axe as soon as their backs are turned.

The controversial song led President Reuven Rivlin about a month ago to withdraw the singer's invitation to perform at the President's Residence.

At the time, Benayoun wrote on his Facebook page that the song was written out of pain over the last wave of terror attacks. "The song talks about violence towards the citizens of Israel and feels their pain. There is no intention to incite in the song, and violence is not our way and is not Judaism's way, even though some try to say otherwise."

Nazareth Illit Mayor Alex Gadalkin called on law enforcement authorities to have mercy on the soldier and take into consideration his unique situation - the fact he is a lone soldier who volunteered for combat service.

"The soldier has expressed remorse, apologized and regrets his comments very much," the mayor said.