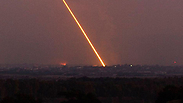 Rocket launched at Israel from within Gaza during summer war.
Photo: Reuters
Hamas' military wing launched three rockets aimed at the Mediterranean Sea on Saturday, Palestinian sources in the Gaza Strip reported, as part of experiments designed to restore Izz ad-Din al-Qassam Brigades' firepower to what it was before Operation Protective Edge. This marks the third day in a row that test rockets were launched.

Prior to the test rockets launched on Saturday, similar experiments had been conducted on Thursday and Friday.

On Tuesday morning, Hamas conducted a similar test, launching a couple of rockets. The sounds of the explosion ricocheted through the Gaza Strip and even resulted in a false report within Gaza that the explosions came from shots by Israeli tanks aimed at the Buriej refugee camp.

The rockets testing joins a long list of recent experiments made by Hamas in the past few weeks. It is estimated that since the end of Operation Protective Edge, dozens of rockets have been launched towards the Mediterranean Sea from within Gaza for experimental purposes.

Hamas official in Cairo Moussa Abu Marzouk confirmed that Hamas has conducted experimental rocket launches and said that they do not constitute a violation of the ceasefire agreement between Gaza and Israel because the agreement did not mention and was not agreed upon that Hamas was prevented from carrying out experiments with rockets.

Most of the Hamas' rocket arsenal accumulated between Operation Pillar of Defense and Operation Protective Edge was self-produced by the organization in Gaza and included rockets with a range of 100 kilometers and more.

Before Operation Protective Edge, Hamas was in possession of hundreds of rockets of similar range – most of which were launched towards central Israel during the summer war and some of which were intercepted by Iron Dome.

Hamas' rocket manufacturing mechanism suffered a blow in the summer war but was not completely destroyed. The defense establishment offered various estimations on the scale of the destruction of Hamas' rocket production abilities – including that Hamas was left with one third of its total rockets after the war was over.

Since the end of Operation Protective Edge, Hamas has made great efforts to repair its rocket production.

"In recent weeks I have heard rockets being launched every morning – it sounds like shrieking. Although they shoot towards the west, at the sea, they could easily turn their launchers around towards our directions and shoot. It is a very worrying situation, because it only proves to us that we are already on track towards escalation in the near future. I don't think that the IDF needs to occupy the Strip for every rocket experiment, but it should definitely give it attention," said one resident living on the border with Gaza.

Defense Minister Moshe Ya'alon spoke on Friday with outgoing US Secretary of Defense Chuck Hagel and thanked him for his help in equipping the Iron Dome system, which was effectively operated during Operation Protective Edge.

"The citizens of Israel owe you a big thanks for your continued assistance in equipping the Iron Dome system and advanced F-35 fighter jets. I would like to thank you on behalf of the citizens of Israel and in the name of the State of Israel for your large contribution to our security," Ya'alon told Hagel.

Ilana Curiel, Matan Tzuri, and Yoav Zitun contributed to this report.