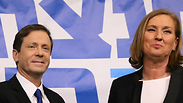 Happy together. Herzog and Livni.
Photo: Motti Kimchi
Isaac Herzog and Tzipi Livni emerged together from a side room, surrounded by an excessive entourage of aides and bodyguards, to unnecessary shouts of "here comes the next prime minister" from a handful of Labor Party members summoned to the scene for this very purpose.

Both wore the same clothes - black business suit and white shirt. It was bold, almost subversive. I was reminded, among other things, of the cult Blues Brothers movie, starring John Belushi and Dan Aykroyd as a pair of singing brothers who set out on a string of adventures together. While Herzog is not Belushi and Livni is not Aykroyd, their decision to strike out together is definitely an adventure.

Herzog-Livni Union

Op-ed: In order to win voters' support, Herzog and Livni will have to stress the differences between them and part of the left-wing camp, which is becoming less Zionist.

There is still no name for the new list. "Zionist camp," I was told, is a temporary name. Perhaps they'll opt for "Hatikva", perhaps "Labor Movement". And perhaps "Tzipzog"?

Overall, this is a positive political move, a by-product of an election campaign that indeed promises to be fascinating. Only one person could make a match between the daughter of the Irgun's Eitan Livni to the son of the Haganah's Chaim Herzog: Benjamin Netanyahu. So great is his might. And there are those who maintain that his power is not yet spent. It is likely that, at some point, he will join forces with Lapid or Khalon, or with one of them and Lieberman, or all three.

The common denominator among all of these politicians is the sense that the Netanyahu era is over. This is not an ideological debate. Each of them has years of working with Netanyahu, either in the same party or the same government. Nor is it isolated incident, or sudden, like winter floods in the Negev. This has been a long process. Six consecutive years in power have taken their toll, both on Netanyahu and on his colleagues. His authority has waned, his performance has suffered, his political senses dulled. He is sick of his ministers and his ministers are sick of him.

The first to recognize this malaise and to resign were ministers from his own party – Kahlon and Sa'ar. Lieberman has also identified it but remains, on his own terms. Lapid and Livni in turn also disconnected.

Ariel Sharon used to say that when the job became too onerous, he would look back at the long line of those seeking to succeed him, and be reinvigorated; Netanyahu sees the same line of would-be heirs and is frightened. This is the only way to explain his recent maneuvers - his support then opposition to for zero-VAT on apartments, his opposition to and then support for zero-VAT on basic products, the health and education reforms that he approved and then dropped, his support for and then opposition to the budget.

The public makes its decisions based on government plans: They buy apartments, stop studying for psychometric tests, weigh their health insurance. When the government behaves like it's drunk, it is the public that is cast by the wayside. They can endure a vision-free leadership, but a leadership that zigzags is hard to bear, it is the leadership that dictates their lives.
Catastrophe to come
Until the upheaval of 1977, the country only ever had one government anchor - Mapai. Governments got up and left, coalitions rose and fell, but they all stood at the head of one party. The upheaval created two anchors - right and left, Likud and Labor. The power was held by one of the parties or divided between both. All of the others were satellite parties.

Sharon created Kadima in the hope of making it the new Mapai. The attempt was unsuccessful. We are left with a large fleet of satellite parties, without anchors, nor flag ships. Anyone could declare himself the next prime minister.

But the real catastrophe is waiting around the corner, for the day after the elections. The political system will split into the extortionists and the extorted. Each party will squeeze and squeeze the prime minister-designate, and the ills of the outgoing government will look like the very picture of health in comparison. This is the stage that Livni and Herzog are hoping to avoid.

Netanyahu was the matchmaker for Livni and Herzog; the political split gave them a common motive and the surveys did the rest of the work. The blooming romance was outlined in detail here last Friday.

Over the weekend both were at the Willard Hotel in Washington for the Saban Forum. They looked and sounded like a honeymooning couple. As she left the stage, I told Livni: "You could have a rotation." Two days ago she told me she wanted to die on the spot: her rotation demand was a secret between her and her partners in the Labor Party.

Rotation, that's what everyone wants now. This is how it is when there is no king of Israel, but many contenders for the throne. The one who helped Livni achieve her rotation deal was Yair Lapid. When she returned to Israel last Sunday, she began a marathon round of talks with Lapid.

"Wait," he told her. "Kahlon and I will run together, and you'll be with us." But Kahlon, say people involved in the talks, is not displaying a great deal of enthusiasm. "Why me?" he asked rhetorically.

Livni was advised to wait, but she thought otherwise. She was afraid that if she waited, the momentum of an upcoming agreement with Herzog would fade. Meanwhile Herzog, worrying about her talks with Lapid, agreed to give up part of the kingdom. The surveys convinced him that the deal was worth the sacrifice.

Surveys, Shimon Peres once said, are like perfume. They have a pleasant smell but you must not drink them. And at this stage of the campaign they do not even smell: the voters are not yet living the elections - not really. But the reports of the surveys are extremely important, for they create momentum.

Three surveys were placed on Herzog's desk, and each one said that without Livni, the Labor Party gets less than 20 seats, and 20-plus with her – a boost that Lapid and Meretz will pay for. Livni does not bring Lapid more votes, he just needs to keep Herzog below the 20-seat mark.

The big test of the Livni-Herzog alliance will be the next polls. If there is a significant increase for the joint list, it can keep growing at the expense of the rival center and left parties. If the numbers are unimpressive, the alliance's chances of success will drop accordingly.

Labor members who turned out to hear the deal with Livni sighed loudly when Herzog announced the rotation agreement. They had expected more. With all these expectations, they have forgotten what their party has to go through until it gets to that rotation: Form a bloc; become the largest party in the bloc; form a complex government, from Lieberman to Deri, Kahlon to Meretz; lead the coalition successfully for two years. Rotation is the least of their problems.

Eitan Cabel, who was the driving force behind the agreement, says that members of his party sometimes remind him of the Maccabi Netanya fans who talk about the glory days, but close their eyes to the current state of the team.
Peace is the word
Many words were uttered during the Herzog-Livni press conference Wednesday. One word was not said: Peace. Not by Herzog and not by Livni. Maybe it was mentioned once, and perhaps not even that. Tzipi Livni, for whom peace was a battle cry, the reason for her entry into politics, her heart's desire, preferred to quash it en route to the press conference.

This is not condemnation, on the contrary. If the two promised a government that would sign a peace agreement with the Palestinians, they would be deceiving the voters. Such an agreement is not within sight, and the prospect of renewed negotiations is not great. Abbas will probably turn to the Security Council, The Hague and other international institutions and fight his battles from there. Perhaps he will retire.

A moderate Israeli government could minimize the damage, prevent international isolation and freeze the settlements, and that's quite a considerable amount. If, like Herzog promises, it talks less and does more, it could better cope with the Iranian threat, Hezbollah, Hamas and a wave of terrorism in the West Bank. It would be better run, at least initially. In the domestic arena it would have to adopt a clear social agenda, or lose the voters immediately after the elections.

But the messiah will not come, nor will the moon fall on us. It would be a shame to raise people's expectations. It will be established, if it is established, due to the one common goal: Just not Bibi. Once this goal is reached, the unifying factor dissipates, and the challenge will be to manage what's left.

Herzog made note of three prime ministers who went on to establish a new list: Ben-Gurion, Begin and Rabin. It sounds nice in theory, but is very difficult in practice. It would be better for Livni and Herzog to leave the dead to their rest.
Innocence and cunning
At 54, Isaac Herzog is not an outstanding candidate for the post of prime minister. His voice is too high, not compared to the piping tenor of Ben-Gurion, but compared to the deep baritone of Netanyahu and Rabin. His body is too thin, his face soft and smooth, like a child. His photo album has no pictures of him in disguise at the raid on Entebbe; there are no citations, no confirmed kills.

He is of the kind who is easier to like than fear; it is easier to listen to him than to follow blindly. His innocent appearance, so convenient to his rivals, hides a cunning and precise mind. He was an excellent welfare minister, knowledgeable in the material, admired by his professional staff, effective and available to all-comers.

He works 24/7, knows everyone, attentive to all and willing to help anyone. At the same time he is a man of the world, has a refined family history and speaks impeccable English. And he knows to cooperate with his colleagues, with politicians.

Herzog's decision-making is not tested yet, not in decisions of life and death. The question of his ability in this area is still open, as is his stamina during a national crisis. I told him once that his role model should not be Ben-Gurion but Levi Eshkol - a generous politician, smart, attentive and conciliatory. He agreed with me, either out of politeness or because he genuinely believed it.

Herzog and Livni are trying to make an advantage out of what is seen as weakness, and they are doing this intelligently. Instead of cultivating a fake cult of personality, North Korea style, around a leader, they are clinging to the concept of "shared leadership." Eitan Cabel coined the phrase "knowing how to put away the ego", and it has become Herzog's mantra as he mocks the "me, me, me" of his rival parties.

In his recent speeches, Herzog has raised his voice from time to time and it sounds unnatural. Sometimes he projects at the wrong time, as though he remembers mid-sentence that a leader must shout, but somehow missed the point.

Indeed, he has no charisma - not yet. Which reminds me of an interesting comment by columnist Amos Keinan, who in 1948 wrote that Ben-Gurion had no charisma. Was he right? I'm not sure. Herzog, however, could well hang this comment on his office wall, under the picture of Ben-Gurion.
A measure of power
Livni's leadership test will be filling the places allocated to her on the joint list. She does not owe anything to the five Hatnua members in the Knesset, nor they her - everyone is free to go their separate ways. She could bring in new people, enrich the joint list and possibly appeal to more voters.

Prof. Manuel Trajtenberg is the most prominent possibility, and could fill the finance slot. And there are others. Everything depends on her. (Shaul Mofaz could make his own arrangement with the Labor Party, regardless of what Livni does. He may skip the Knesset altogether, hoping to be appointed minister.)

Herzog's first test of leadership will be getting his agreement past the Labor institutions. If the polls do not disappoint, he will pass this test easily, and will at the same time deliver a lesson in the power of a leader.

Although some members will writhe and some will grumble into the ready ears of reporters, only a small minority will be ready to burn bridges. That will only come if Herzog does not return them to power.