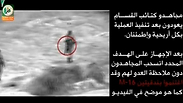 New leaked video shows Hamas militants calmly walking back to Gaza after attack during summer war.
Two days after Palestinians revealed leaked video footage from an IDF investigation showing Hamas members infiltrating Israel by sea at the Zikim beach in southern Israel, the Al-Aqsa news channel aired another video showing a serious incident during Operation Protective Edge in which two IDF soldiers were killed.

The IDF has yet to officially respond to the leaked video, which shows a contradicting version of an incident that happened during the summer war. "The cell members were not warded off or chased," said Hamas, contradicting the IDF's claims that Israeli forces managed to chase the Hamas militants and push them back into Gaza.

Hamas leaked video footage showing Hamas militants calmly returning to Gaza after attack.

The said video refers to an incident which led to the deaths of Major Amotz Greenberg, 45, and Sergeant Adar Barsano, 20, after Hamas terrorists infiltrated into Israel from a tunnel from within the Gaza Strip.

The IDF had said that the cell of terrorists infiltrated into Israeli territory through a tunnel and opened fire using machine guns, shooting at IDF tanks that were patrolling the area. The IDF units returned fire and pushed back the terrorists into Gaza, according to the IDF's version of the incident.

In the video footage released Saturday – which seems to have been taken from security cameras and IDF monitors – the terrorist cell, according to Hamas claims, is seen returning from the site of the attack. The Hamas terrorists are seen walking back from the attack calmly and not fleeing the scene.

According to Hamas, the video proves that their fighters were not chased back to the Gaza Strip or pushed back.

During the video, the Hamas terrorists are seen crossing back into Gaza through the border fence above ground and not through a tunnel. The camera follows them, and later on, they are filmed running rapidly.

It is unclear whether they are still in Israeli territory at this point or whether they have crossed over into Gaza as the video footage is edited and cut, but according to Hamas, the fighters were on Gazan territory at that point.

Later in the video, IDF weapons that were taken from the soldiers who were killed are seen in the hands of the Hamas militants, who managed to snatch the weapons into Gaza.

Unlike the video footage that revealed the Hamas infiltrators at Zikim beach, the video footage leaked on Saturday is grainy and edited, which makes it difficult to determine where the Hamas militants are located at each point and whether Hamas' version of events is true or false.