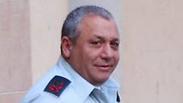 ה רמטכ"ל הבא גדי אייזנקוט גדי איזנקוט מחוץ לביתו ב הרצליה
Photo: Motti Kimchi
Major General Gadi Eisenkot is officially the next Israel Defense Forces chief of staff, after the government on Sunday morning confirmed his nomination.
"Gadi Eisenkot is the right person in the right place at the right time," Prime Minister Benjamin Netanyahu said at the opening of the meeting.
More on Eisenkot's appointment:
"Gadi has been through every track of soldiering and command, is an experienced commander and can lead the army in the face of the great challenges that surround us."
Sunday's government approval came after the Turkel Advisory Committee on Senior Appointments last week gave him the nod.
"The challenges never end," added Netanyahu. "They do not stop for one moment and I am convinced that with firm, assertive and responsible policy, we can overcome all obstacles and meet all challenges. I wish Gadi Eisenkot great success, and in every respect, his success is our success."
After a long waiting period, an official announcement was made last month that Netanyahu had approved Eisenkot's appointment, in accordance with a recommendation from Defense Minister Moshe Ya'alon. The delay was criticized by the military top brass, who claimed that the six weeks left in office for current IDF chief Benny Gantz is not long enough to prepare his successor. The army also expressed concern that the few weeks left until Eisenkot takes office in February is insufficient time to appoint and induct a new deputy chief of staff.
Tiberias-born Eisenkot, 54, is married with five children and lives in Herzliya. He joined the IDF in 1978, serving in the Golani Brigade during the First Lebanon War. He was later appointed commander of the brigade and during the IDF's withdrawal from Lebanon in 2000 served as military secretary to then-prime minister Ehud Barak.
In 2003, at the height of the second intifada, he was appointed commander of the Judea and Samaria Division. During the 2006 Second Lebanon War, Eisenkot served as head of the General Staff Operations Directorate, and then GOC Northern Command. From there, he went on to his current position as deputy chief of staff.
Eisenkot holds a degree in political science from the University of Haifa and is a graduate of the United States Army War College. He will take up the position of head of the armed forces on February 15, 2015.
Attila Somfalvi and Itamar Eichner contributed to this report