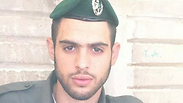 Ben Deri, charged with the shooting.
Israel on Sunday named Ben Deri, 21, of Rishon Letzion as the Border Policeman charged with shooting and killing a Palestinian teenager during the Nakba Day protests in May.
Nadim Nawarah, 17, was hit by gunfire during protests in Beitunia, near Ramallah, that included stone-throwing and tire-burning. Another demonstrator, 22-year-old Mohammed Abu Thahr, was also killed in the same protest.
Deri served in the West Bank, and has since completed his military service. Family members and friends said that he seemed despondent while in police custody and could not believe the situation in which he had found himself.
They said that the incident had also seriously affected his parents, while relatives said that after three years of risking their lives for their country, Deri and his friends were "very disappointed" by how the state had treated him. it was, they said, a "betrayal".
Zion Amir, Deri's attorney, said he had showed the court that "there are many question marks regarding whether or not live fire was used against the deceased."
He described Deri's emotional state as "dire", adding that the accused "felt that he was protecting our country, standing in the line of fire, and had endangered his friends for the sake of his homeland.
"It's extremely unpleasant to be detained for a length of time in such circumstances," Amir said. "He will fight with everything he's got to prove his claims." He added that Deri's army cohorts described him as a "very serious person, who was destined for permanent service."
Siyam Nawarah, Nadim's father, said following Deri's arrest in November that investigation into the incident was "Israel's opportunity to show the entire world that it is a law-abiding nation, meaning that the law is equal for Palestinians and Israelis. Israel must show the world that it will punish the officer in the same way as it would a Palestinian who shot an Israeli.
"If a Palestinian murders an Israeli, he gets a life sentence, and that's exactly what the officer should get for murdering a Palestinian," he added. "Justice should be blind and equal for both sides."
He also praised Israeli security forces for the in-depth investigation. "I'm satisfied by the fact that Israel is taking the right steps in this case."
Days after Nadim's death in May, his family handed over the bullet lodged in his backpack to the Palestinian attorney general. The Israeli human rights organization B'Tselem began investigating the incident shortly after it occurred, discovering that live ammunition had been used against the protestors.
B'Tselem said in November that, "The investigation must be speedily completed and the persons responsible for the killing of the two youths stand trial. "This incident is exceptional in the rare body of evidence available: full footage of the incident captured by security cameras, a bullet recovered from Nawara's backpack, and metallic fragments extracted from Nawarah's body during an autopsy," said the organization.
Police also questioned Deri's commander, whom they suspected of failing to report the use of live fire.