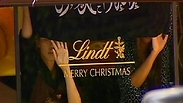 A hostage situation at the Sydney Lindt Chocolat Cafe has ended after a swarm of heavily armed police stormed the cafe in the early hours of Tuesday morning, Australian police said. Three people were killed and four wounded during the rescue operation - one of them the hostage-taker. The other two are hostages - 34-year-old man and 38-year-old woman. A police officer reportedly suffered gunshot wound to the face.
An armed Iranian refugee, identified as 50-year-old Man Haron Monis, entered the cafe over 16 hours earlier and took 17 people - both customers and staff - hostage.
After a flurry of loud bangs, police swooped into the Lindt Chocolat Cafe in downtown Sydney shortly after five or six hostages were seen running from the building.
After the police moved in, one weeping woman was helped out by the officers and at least two other people were wheeled out on stretchers.
CNN reported two people were killed and several others wounded. The information cannot be verified at this point.
St. Vincent's hospital spokesman David Faktor said a male hostage was in satisfactory condition in the hospital's emergency department. He was the only one of the freed hostages to be taken to a hospital, and Scipione said he was being treated for a pre-existing condition.
Ten of the hostages were able to escape ahead of the police rescue operation. The first three people ran out of the cafe six hours into the hostage crisis, and two women sprinted from a fire exit into the arms of waiting police shortly afterward. Both women were wearing aprons with the Lindt chocolate logo, indicating they were cafe employees. Five more managed to flee shortly before police stormed in.
Self-styled sheikh with a past of violence
Monis, a self-styled sheikh, has long been on officials' radar. Last year, he was sentenced to 300 hours of community service for writing offensive and threatening letters to families of Australian soldiers killed in Afghanistan, as a protest against Australia's involvement in the conflict.
He was later charged with being an accessory to the murder of his ex-wife who was stabbed and set alight in a Sydney apartment block.
Earlier this year, Monis, who describes himself as a "spiritual healer", was charged with the sexual assault of a woman in 2002 and is facing more than 40 indecent assault charges. He has been out on bail on the charges.
"This is a one-off random individual. It's not a concerted terrorism event or act. It's a damaged goods individual who's done something outrageous," his former lawyer, Manny Conditsis, told Australian Broadcasting Corp.
"His ideology is just so strong and so powerful that it clouds his vision for common sense and objectiveness," Conditsis said.
In 2001, Monis, also known as Sheikh Haron, told Australian news network ABC that he fled to Australia after falling foul with the Iranian regime, adding that his wife and children were put on house arrest.
Monis's website shows graphic images of children that the website says were killed by US and Australian airstrikes, as well as media coverage following Monis's court appearances and statements addressed to the Muslim community and Australian Prime Minister Tony Abbott.
Black flag with the Shahada
Throughout the day, several people were seen with their arms in the air and hands pressed against the window of the cafe.
A local station, Channel 10, received a call – after two other media outlets were contacted – and demanded to speak with Australian Prime Minister Tony Abbott and that an Islamic State flag be brought to the cafe.
Two of the hostages were later made to hold up a black flag with the Shahada, or Islamic declaration of faith, written on it.
The Shahada translates as "There is no god but God and Muhammad is his messenger." It is considered the first of Islam's five pillars of faith, and is similar to the Lord's Prayer in Christianity. It is pervasive throughout Islamic culture, including the green flag of Saudi Arabia. Jihadis have used the Shahada in their own black flag.
A number of Australian Muslim groups condemned the hostage-taking in a joint statement and said the flag's inscription was a "testimony of faith that has been misappropriated by misguided individuals."
In a show of solidarity, many Australians offered on Twitter to accompany people dressed in Muslim clothes who were afraid of a backlash from the cafe siege. The hashtag #IllRideWithYou was used more than 90,000 times by late Monday evening.
Seven Network television news staff watched the gunman and hostages for hours from a fourth floor window of their Sydney offices, opposite the cafe.
The gunman could be seen pacing back and forth past the cafe's windows. Reporter Chris Reason said the man carried what appeared to be a pump-action shotgun, was unshaven and wore a white shirt and a black cap.
Earlier Monday, network staff counted about 15 different faces among hostages forced up against the windows.
"The gunman seems to be sort of rotating these people through these positions on the windows with their hands and faces up against the glass," Reason said in a report from the vantage point. "One woman we've counted was there for at least two hours - an extraordinary, agonizing time for her surely having to stand on her feet for that long."
"When we saw that rush of escapees, we could see from up here in this vantage point the gunman got extremely agitated as he realized those five had got out. He started screaming orders at the people, the hostages who remain behind," he added.
Reason later reported that staff brought food from a kitchen at the rear of the cafe and the hostages were fed.
Australian Prime Minister Abbott said the National Security Committee of Cabinet met to be briefed on the situation.
"The whole point of politically motivated violence is to scare people out of being themselves," Abbott said. "Australia is a peaceful, open and generous society – nothing should ever change that. And that's why I would urge all Australians today to go about their business as usual."
The cafe is located in Martin Place, a plaza in the heart of the city's financial and shopping district that is packed with holiday shoppers this time of year. Many of those inside the cafe would have been taken hostage as they stopped in for their morning coffees.
Hundreds of police flooded into the area, streets were closed and offices evacuated. The public was told to stay away from Martin Place, home to the state premier's office, the Reserve Bank of Australia, and the headquarters of two of the nation's largest banks. The state parliament house is a few blocks away.