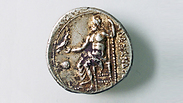 Image of Zeus on coin
Photo: Robert Kool, courtesy of the Israel Antiquities Authority
A 2,800-year-old farm house was uncovered in recent weeks during archeological excavations conducted by the Israel Antiquities Authority (IAA) in Rosh HaAyin, as part of infrastructure projects initiated by the Construction Ministry to enlarge the city.

The farm house, which stretches over 1,200 square meters, was built in the eight century BCE and comprised twenty three rooms. According to Amit Shadman, excavation director on behalf of the IAA, the farm house was constructed in the time of the Assyrian conquest.

"Farm houses during this period served as small settlements of sorts whose inhabitants participated in processing agricultural produce," Shadman further added.

The structure had been in use during the Persian period, at the time of the Return to Zion, in the sixth century BCE and in the Hellenistic period which began formally with the arrival of Alexander the Great to the country.

Evidence of Greek presence in the region was found on one of the floors of the building, in a rare silver coin that bears the military leader's name – ΑΛΕΞΑNΔΡΟΥ.

The image of the god Zeus also appears on that side of the coin, with the head of Heracles on its reverse side. During the Ottoman period, a lime kiln was built into the building, which used stones in the structure as a source of raw material.

As a result of the building's prime state of preservation, the Israel Antiquities Authority and Construction Ministry decided to conserve the structure for the benefit of local residents and visitors.

"The numerous wine presses discovered in the vicinity of the settlement indicate the wine industry was the most important branch of agriculture in the region. A large silo, which was used to store grain, shows that the ancient residents were also engaged in growing cereal," Shadman explained.