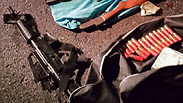 The Shin Bet, IDF, and Israel Police arrested in the past two months five suspects, from Jenin and Tulkarm, who planned on committing terror attacks in Tel Aviv and other cities.

It was released for publication Monday that Yasmin Shaaban, a 31-year-old resident of Jenin was planning to impersonate a pregnant Jewish woman, wearing a suicide vest. The suspects confessed to also planning a shooting attack, attempting to bomb a bus full of soldiers, and even kidnapping a soldier.

According to the plan, Shaaban was to try to receive an entry permit to Israel, on medical grounds, which she would use to enter the country and commit a suicide bombing. During their interrogation by the Shin Bet, the suspects admitted to planning the suicide attack, as well as several others.

At the time of their arrests, Israeli forces confiscated a customized M-16, a hunting rifle, ammunition, and materials used in bomb-making.

The other members of the cell were 22-year-old Manadel Taqiz, 20-year-old Maatez Taqiz, 22-year-old Abed al-Halek Masimi, and 22-year-old Marwan Tzdeki – all from the small village of Attil, northeast of Tulkarm.

The cell planned to make use of an apartment within Israel, used by unauthorized immigrants, to prepare the suicide bomber for her mission. They confessed to being in contact with an operative in the Gaza Strip, who guided them in preparing the suicide vest.

It was agreed that Hamas and Islamic Jihad would claim responsibility after the attack.

The military court in Samaria received indictments against Manadel Taqiz and Yasmin Shaaban conspiracy to commit murder, membership in an illegal association, as well as other offenses.

Indictments against the other members of the cell were pending.

The Shin Bet said the arrested prevented the execution of a suicide bombing and that terror activists are greatly motivated to commit attacks, especially after Operation Protective Edge. The investigation affirms the connection between terrorists in the Gaza Strip and activists in the West bank.