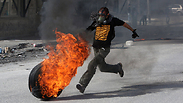 Riot at Qalandiya. Archive photo.
Photo: AFP
IDF forces killed a Palestinian Tuesday morning and lightly wounded another during a violent confrontation in the Qalandiya refugee camp north of Jerusalem.
The army reported that scores of Palestinians approached the soldiers, shooting towards them and throwing stones and improvised explosive devices.
According to the IDF, the soldiers returned fire, killing one of the Palestinians who had thrown the devices and wounding another.
Witnesses said the man killed, Mahmoud Adwan, 20, was watching from the roof of his home when he was shot.
The soldiers had entered the camp to arrest someone suspected of arms trafficking. The wanted man was taken into custody of security forces for questioning. No soldiers were wounded, and they safely exited the camp.
IDF forces arrested six other Palestinians overnight, who were suspected of terrorist activities, including a Hamas operative from Hebron.
Associated Press contributed to this report.