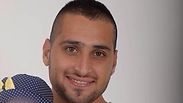 Zidan Saif. 'He deserves to have his name called among the Jewish people for all time'
Alexander and Jennifer Chester, a Jewish religious couple living in New York, had an emotional surprise for the guests at their son's circumcision ceremony.

The parents revealed that they had decided to name the baby Yaakov (Koby) Zidan, after Druze police officer Zidan Saif, who was killed while trying to defend Jewish worshippers during last month's massacre at a synagogue in Jerusalem's Har Nof neighborhood.

Righteous Among the Nations

Hundreds of people from haredi sector respond to calls on social media to accompany Master Sergeant Zidan Saif on final journey: 'We won't be ungrateful, we will show out gratitude to those who sacrificed our lives for us.'

The couple explained that they were emotionally moved by Master Sergeant Saif's personal story and felt the need to commemorate him despite the fact that he did not have a Jewish name.

"Zidan Saif was a member of Israel's Arabic Druze minority, a community of proudly patriotic Israelis. Like other Druze, Zidan served in the IDF, and after his service he became a policeman in Jerusalem," Alexander Chester wrote on his Facebook page.

"Three weeks ago, when he heard of a terrorist attack on a synagogue, he didn't hesitate for a moment because he wasn't Jewish. He ran into a service much like this one in a room much like this one, and gave his life saving the lives of others praying in that room.
'Not just a Jewish hero, a hero for humanity'
"The first time in his life that Zidan Saif entered a synagogue was on the last day of his life. I've entered a synagogue most of the days of my life, but on all those days combined I haven't had the impact that Zidan had just once.
"Zidan Saif left behind parents, siblings, a wife, and a six-month old daughter. He was a Jewish hero, and he deserves to have his name called among the Jewish people for all time.
"But he wasn't just a Jewish hero, he was a hero for humanity," the father added, saying that his prayer for his son is "that you strive to do as much for the betterment of the Jewish people and all mankind as Zidan Saif did in his final moments, that you be inspired by your first namesake to have a tireless commitment to your family and the Jewish people, and by your second namesake to be a proud citizen and patriot of your country, and that you be at the forefront of efforts to ensure the peace and safety of all people in Israel and across the world, regardless of whether they share your religious or ethnic identification."
Ziad Saif's widow, Rinal, was also very excited to hear about the Jewish couple's gesture to her husband.
"When the baby grows up, everyone will ask him why his name is Zidan. And then he will explain that in 2014, a hero police officer was killed in the State of Israel, and people will remember and remind others of my husband," she said. "That keeps me strong. I know that Zidan's name will not be erased from the history of the state's defense, even abroad.
"I have a lot of appreciation for the couple and I am very grateful to them for their decision. I would like to meet them. I am certain that when our baby girl Larin grows up, she will be very proud to know that someone was named after her father."