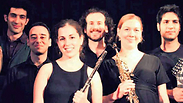 From left: Jawad, Ido, Michal, Yuval, Johanna and Hamad
BERLIN - Mahmoud Ahmadinejad probably wouldn't be too happy to hear so, but he's responsible for the Persian version of Hava Nagila – oh yes, indeed. It's probably not the former Iranian president's favorite song; and yet, the man contributed directly to the fact that six young Iranians and Israelis got together last Friday night and indeed played the world-renowned Israeli classic, along with the traditional Shalom Aleichem liturgy. After all, what could be more appropriate for a Sabbath eve?
The performance took place last weekend at the International Cultural Center in Berlin. Under a blue Star of David and the word, Allah, written in green, just as it appears in the middle of the Iranian flag, a unique musical ensemble took to the stage – three Israelis, two Iranians and a German woman, who've banded together to show the world that Israelis and Iranians are not enemies.
The group calls itself Sistanagila, in keeping with the name of one of the musical segments it performs – a combination of Persian melodies from the Sistan region in southern Iran and Hava Nagila. And what does Ahmadinejad have to do with it all? Just you wait and see.
Better than a demonstration
It all started just over two years ago, when Babak Shafian, 33, an Iranian computer scientist who moved to Germany in his youth, tired of hearing the former Iranian president's verbal attacks on Israel and sought to give voice to something different.
"I come from a family of musicians," he says by phone from Rome, where he is currently working. "Music is very close to my heart. I met a few Iranian musicians who live in Berlin, and thus the idea of collaboration between Iranian and Israeli musicians was born."
Shafian recalls having a basic knowledge of Judaism as a youth in Iran thanks to two Jewish teachers he studied with at high school in Tehran. "But I began learning much more only in Berlin, where Jewish history is evident almost everywhere," he says. "I even studied Jewish history at university."
Shafian did indeed meet a number of Israelis from the university in Berlin, but he had no idea how to contact Israeli musicians living in the city, mainly because he's not a musician at all. Eventually, using a website that connects people looking for cheap travel accommodations, he found musician Yuval Halpern, 34, who now serves as the ensemble's musical director.
Halpern, who moved to Berlin to be with his German wife, Johanna, a saxophonist who now forms the German component of the ensemble, admits today that he didn't quite understand what the unknown Iranian wanted from him at first, but that his wariness soon dissipated.
"Babak told me that Ahmadinejad's anti-Israeli statements don't represent him and that he wants to show that there are Iranians who have nothing against Israel," Halpern says. "He thought an artistic initiative would do more than a demonstration. And that's how we got things rolling. He found the Iranian musicians and I found the Israelis."
Apart from Halpern and his wife, Johanna, the ensemble today also includes pianist Ido Spak, Michal Tikotzki on the flute, percussionist Jawad Salkhordeh, and Hemad Darabi on guitar. "For the Iranians, it's more complex," says Halpern. "There were those who started playing with us and left out of fear that something would happen to them because they're playing with the Israelis."
And has anyone had any problems?
"Not until now," Shafian says. "But there's always the sense that something could happen, particularly if any of us want to go back to Iran. None of us have gone there since the project started. We are also concerned of course for the safety of our relatives there. But it doesn't create tension among us. We haven't had any problem until now and we hope there won't be any."
Concern for their families in Iran meanwhile appears warranted. Jawad's parents were recently paid a visit by Iranian police, who learned of the ensemble via the Internet and advised the parents of the bands virtuoso percussionist "to keep a closer eye" on their son. But Jawad, 35, who earns his living in Berlin as a nurse and was one of the first musicians to join Sistanagila, hasn't been scared off.
"I heard about the project through a friend, and Israel of course intrigued me," he says with a smile. "I wasn't familiar with Israeli music, Israeli culture or Israelis, and I wanted to learn about it and see how we could connect, and understand why we have become enemies. Naturally, we, and most people in Iran, don't think like our politicians. They are the ones who decide for us, but the people don't think like them."
And what have you learned about the Israelis?
"Israeli music is not very far from my musical culture," Jawad says. "It's very similar to the Turkish, Arabic, Eastern music. Via Facebook, I have also met a number of Persian musicians who live in Israel. The Israelis are more disciplined than us; they show up on time, come prepared for rehearsals. The Iranians less so. But when we're together, we don't think about where the others come from. I'm simply happy to play with them."
According to Halpern, "It's not a political ensemble. Our intention wasn't to start a political movement that would determine how the governments should act. We wanted to do something nice together and show the world that there are other voices, not just those that speak of wars and fear."
But you're clearly making a political statement.
"True," Halpern says, "but this is not our main objective. Each of us has his own private opinions, and we don't mix politics and music."
The connection, Halpern continues, was not an automatic one. "We had to find a common musical language," he says. "Initially, I composed a bunch of different segments; but when I got to rehearsal, I saw that not everyone could work like that, with one person writing and the rest playing what they're told to. On the other hand, the classical musicians among us find it harder to work within a framework of constant improvisation. They need to see notes.
"So we decided to work at on well-known pieces – classical Persian music and Sephardi-Jewish and Klezmer musical segments. The idea wasn't to play things like they've already been played, but to create something new. The Israelis really didn't want to play Hava Nagila, but the Iranians loved it. They played it in a Persian style, and it sounded completely different."
Halpern admits he was surprised to find a strong similarity between the Israelis and the Iranians. "The Iranians are very polite, but not like the Germans or the British," he says. "It's a politeness that stems from respect, like the Arab politeness. At the same time, they are very direct. When something happens and one of us remarks, 'It's so typically German,' the others understand what he means. At home, in Israel and Iran, things work differently, and that connects us."
Sistanagila's apolitical stance is also the reason the ensemble politely rejected a surprising invitation from the Iranian Embassy in Germany. "We declined the invitation so as not to take a political position in favor of either side," Shafian says. "We don't want to work with government institutions, Iranian or Israeli."
No unpleasantness at the airport
And what are the chances of seeing Sistanagila in Jerusalem soon? Well, according to the members of the ensemble, not too bad. "But we'll have to wait a little longer to appear in Iran, primarily because the Israeli musicians won't get visas for Iran with Israeli passports," Shafian says. "The Iranian musicians have or will have German passports and they'll be able to fly to Israel at some point."
"Our dream is to appear together in Israel or Iran," Halpern adds. "A more likely scenario is to perform in Israel, but first we need to find a worthy framework and ensure that the security personnel at Ben-Gurion Airport don't cause the Iranian musicians any unpleasantness."
The ensemble's principal task at present is to raise the 13,000 euros it needs to release its first record. "We've opened a page on a crowdfunding website and we've raised 1,500 euros to date. It's not easy," Halpern admits. "People don't know us and our music yet, and it's a matter of trust."
The concerts, too, they hope, will help with the funding. "Until now, we've performed only in Germany – at festivals and in Jewish communities – and the response was very positive," Halpern says.
"Iranians also come and they enjoy it. People are used to hearing the headlines in the news: Iran hates Israel, Israel hates Iran; and then they see musicians from these two countries who are creating something beautiful together. We hope that the record will allow us to reach more people with this message."