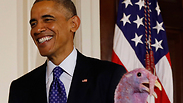 Obama likely to sign bill underscoring strategic ties with Israel.
Photo: Reuters
US Presidnt Barack Obama is expected to sign two bills in the coming weeks passed by Congress, one of which requiring more elaborate explanations about how major arms sales to the Middle East would affect the "qualitative military edge," that US law mandates for Israel.

US officials, speaking on background, said the provisions could slow approval of foreign arms sales and add administrative costs for the US government, but the president was unlikely to veto the bills, given their importance to US allies. One permits the transfer of older US warships to Mexico and Taiwan; the other underscores US strategic ties with Israel.

The bills were passed by Congress despite concerns raised by US officials that they could add time and cost to the already complex process for approving foreign arms sales.

One bill passed would allow leaders of the US House of Representatives and Senate foreign affairs committees to request 30-day notification of certain arms shipments to specific countries, if concerns arose after the sales were approved.

Both measures, passed as part of wider bills by Congress this month, aim to give lawmakers more oversight over arms sales at a time of rapid political and national security changes in the Middle East.

Neither bill has drawn a White House veto threat.

The State Department, Pentagon and White House had no immediate comment on the provisions.

Industry executives, who are counting on foreign arms sales to offset declines in US military spending, said the provisions could further complicate the complex process for winning approval of weapons sales to US allies abroad.

Congress has already revised the first measure to account for some of concerns raised by the Obama administration.

It now requires both the leader and ranking member of the Senate and House foreign relations committees to back a request for an arms delivery notification, instead of just one, and applies only to government-to-government, not commercial, sales.

One Senate Republican aide said the measure would improve transparency by allowing Congress for the first time to monitor actual arms shipments, without adding new obstacles.

One US official, who was not authorized to speak publicly, said the government would need a new process for tracking such shipments, which often occur years after a sale is approved.

Andrew Shapiro, who previously headed the State Department office that oversees foreign arms sales, said the provision would only be used in cases involving "significant events" and did not give Congress the ability to block sales.

The other bill requires the administration to spell out more specifically how major weapons sales to the Middle East would affect Israel's "qualitative military edge."

Such issues are already addressed in classified documents provided to Congress in conjunction with the proposed sale of major weapons to the Middle East, but the new measure would beef up that analytical process, said Shapiro, currently managing director of Beacon Global Strategies.

It requires a detailed explanation of Israel's ability to respond to the improved capabilities, how a sale would alter the balance in the region, and whether the US government had made any security assurances to Israel in conjunction with the sale.