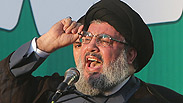 Hezbollah chief Hassan Nasrallah.
Photo: AFP
Hezbollah said Tuesday that it uncovered an Israeli spy within its ranks who was in charge of its leader's security, according to a report in the Lebanese news site Elnashra.

The Lebanese terror organization claimed that a member of their "910" unit, which is in charge of foreign operations, was working for Israel's national intelligence agency, Mossad.

The alleged Israeli spy was entrusted with a wide range of responsibilities, Kuwaiti newspaper Al Rai said Wednesday – at one point even overseeing Secretary General Hassan Nasrallah's security detail.

Hezbollah has ousted senior members following the discovery of the purported spy, said the newspaper, and boasted that they were "rid of the bacteria" after the arrest.

The arrest occurred several weeks ago and Hezbollah decided to leak the information Tuesday "as proof of the calamity that has befallen Israeli intelligence, which has lost a senior source of information in the ranks of Hezbollah," according to Elnashra.

The site said the alleged spy, who was referred to by the initial M., worked as a businessman and "frequently travelled abroad for work." The site added that Hezbollah transferred M. to the custody of the Lebanese army after catching him in the act of passing classified information to the Mossad. The arrest reportedly came upon his return from a trip abroad where he met his Israeli handlers.

Hezbollah officials ran secret surveillance on the businessman for some time, said sources in Beirut.

M. was reportedly recruited eight years ago in a country in Asia, and was suspected of passing information that helped the Mossad assassinate Imad Mughniyah, then head of Hezbollah's operations unit, in February 2009, as well as his replacement, Hassan al-Laqqi, last December.

The report further stated that M. helped foil over recent months a series of terrorist attacks against Israeli tourists in several countries, including Cyprus, Peru, and Thailand. He sabotaged these attacks after revealing the identities of three Hezbollah operatives sent to carry out the attacks.

Former Lebanese President Amin Gemayel arrived last weekend in south Lebanon and criticized Hezbollah's "ongoing harassment" of village residents refusing to host Hezbollah fighters and inhibiting attempts to turn warehouses and farmland into weapons depots.

Gemayel surprised reporters by issuing a call for the Lebanese government to return soldiers of the South Lebanon army who fled to Israel. "It's a disgrace that Lebanese citizens have lived in Israel for 15 years because they are scared of Hezbollah," he said. "They must declare amnesty and allow them to return to their homeland without Hezbollah threatening their lives and prosecuting them for supposed treason."

Israel had no response to Hezbollah's claims regarding the purported spy.

Smadar Perry contributed to this report.