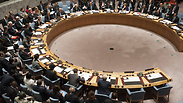 UN Security Council
Photo: AFP
A draft resolution on ending the "Israeli occupation" will be submitted to the UN Security Council Wednesday after the Palestinians agreed with France on a merged text, Foreign Minister Riyad al-Malki said.
"The draft that will be presented today is the French draft based on Palestinian observations and decisions," Malki told AFP.
"It will be presented to the Security Council as a blueprint, and could be put to a vote 24 hours after that," he added.
The Palestinians began circulating a draft at the end of September, after President Mahmoud Abbas told the UN General Assembly that it was time to fast-track Palestinian statehood.
Diplomats said the Arab-backed text setting November 2016 as the deadline for an Israeli withdrawal stood no chance of approval in the face of the threat of a US veto.
France stepped into the fray last month and, with Britain and Germany, began discussing options for a separate resolution setting a timeframe for negotiations on a final settlement.
Mohammed Shtayyeh, a member of Abbas's inner circle, said on Tuesday that France had "accommodated" the Palestinians and that delegates were thrashing out a merged text.
The European-backed draft had set a two-year deadline for conclusive peace talks, without touching on the issue of Israel's "occupation."
Malki said France had scrapped mention of the thorny issue of Palestinians recognizing Israel as a Jewish state from the draft, but gave no further details of its content.
Prime Minister Benjamin Netanyahu has rejected all notions of a withdrawal from the West Bank or East Jerusalem, citing security concerns.
The reported compromise text came after a flurry of meetings between US Secretary of State John Kerry, Netanyahu, Palestinian negotiators and European ministers.
Washington has wielded its Security Council veto repeatedly in the past in support of its Israeli ally.
The US administration has long insisted that a promised Palestinian state must come through negotiations with Israel. The Palestinians retort that repeated rounds of talks have gone nowhere.