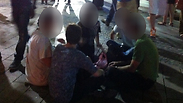 Lehava members (Illustration)
Photo: Ruhama Weiss
A 15-year-old student from Petah Tikva was arrested Wednesday on suspicion he assaulted his teacher during class.

The student is said to have punched the teacher in his stomach, and after the teacher collapsed, the student proceeded to kick him - all of that in front of the entire class.

The teenager, who was arrested by the Petah Tikva police, has been brought in front of a court and subsequently released.

Police said the teen admitted to assaulting the teacher, claiming: "I didn't like the lesson."

The teen was arrested a month ago as well on the suspicion he attacked police officers during protest of radical right organization Lehava (opposing assimilation of Jews) in Petah Tikva.

City watch patrolmen noticed a Lehava activist distributing pamphlets near a park. They walked up to him and then, according to police, the activists attacked them and wounded two patrolmen. Three teens were arrested, the 15-year-old student among them.

In the early hours of Tuesday, the Judea and Samaria District Police raided the homes of 10 Lehava members, including the home of the head of the organization, Bentzi Gopstein, and arrested them on suspicion of incitement and calling for violent and terror acts against Arabs.

In addition to Gopstein who lives in Kiryat Arba, other members from all over Israel were arrested - including in Petah Tikva, Netivot and Jerusalem.

The wave of arrests came a day after indictments were filed against three of the organization's members for setting a bi-lingual school in Jerusalem on fire two weeks ago. According to police, the three decided to set the school on fire and spray graffiti at the school where both Jews and Arabs study after they learned the school held a memorial to Yasser Arafat several weeks earlier.