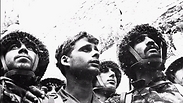 75 שנה ידיעות אחרונות כותל צנחנים
Photo: David Rubinger
47 years after three soldiers were photographed gazing in amazement upon the Western Wall, they returned to recall the unforgettable moment.

The three soldiers were Dr. Yitzhak Yifat, Zion Karasanti, and Haim Oshri, all members of the same paratrooper battalion that took part in the battle for Jerusalem's Old City. The moment they glimpsed the wall for the first time was captured by photographer David Rubinger.

The historic photo, showing the first Israelis to reach the sacred wall since it fell into Jordanian hands in 1948, has become a symbol of the Six-Day War.

Today, Yifat and Karasanti are 70, Oshri a year younger. Rubinger turned 90 this past summer. But despite his age, he lay on the ground just as he did nearly half a century ago to recreate the exact angle. Unlike then, someone quickly sounded a shofar. People gathered around, including some who were born decades after the battle for the city, and thanked the former soldiers.

"We didn't care about anything else," said Karasanti, "just the stones in the wall."

"The picture made my life," said Rubinger. "I won the Israel Prize for it, and it became an icon worldwide. A icon isn't made by a photographer. An icon is made by an audience. The audience saw in these three faces" – he pointed at the men beside him – "something it wanted to see. People still say, 'those are the guys who cried by the Kotel.' Nothing better could happen to a photographer."

We asked Rubinger if it was the best photograph he made in his career.

"The worst!" he replied. "From a photographic perspective, it's a bad picture. A good photograph includes no unnecessary elements. But here there are all kinds of people in the background, half a head here, a quarter of a nose there, another half an ear there. That's not good photography. It's an important photograph, but not a good one."